The Final Hour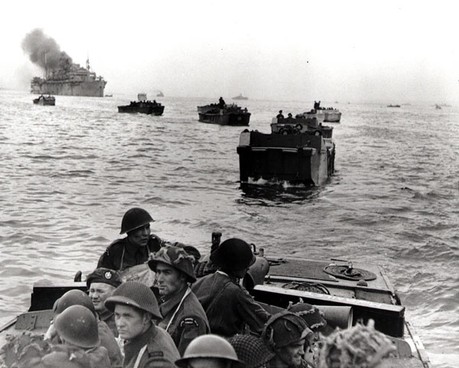 Written with Glenda MacFarlane
Read the text of The Final Hour
The Final Hour was written because Glenda Macfarlane and I discovered, to our mutual horror, that CBC Radio wasn't planning any special events to mark the 60th anniversary of D Day. That was back in 2004 and, in the end, the Mother Corporation did observe the historic date in a number of ways. We were honoured and pleased to have played a part. The CBC version was recorded at Glenn Gould Studio, with a live band and two sold-out audiences. It was broadcast on the 60th anniversary of D Day on CBC's prestigious The Sunday Edition, with Michael Enright hosting. The CD went on to become CBC's top selling disc for the remainder of that year.
Fast forward to the present. Glenda and I have rewritten The Final Hour for the stage, in two versions. The "adult" version is contained here; for the high school version, go to Short Plays/War. (It is available from One Act Play Depot.)
Synopsis:
Set in real time in the final hour before the D Day landing of June 6, 1944, The Final Hour follows five soldiers from the Royal Winnipeg Rifles regiment, as they prepare for their greatest undertaking of their lives.
Characters:
Gerald PARKER, 23. Major
FRED Miller, 22. Private
WILF Stewart, 24. Private
MORRIS Lamoreaux, 42. Private
JIMMY Mitchell, 19. Private
Setting:
Between 7 and 7:49 a.m., aboard a small landing craft (LCA).