INTO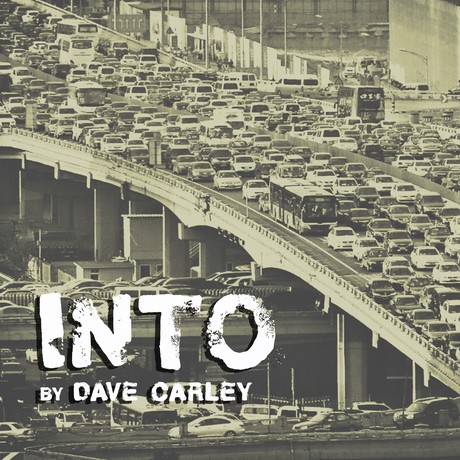 The graphic from the 2016 Toronto Fringe production. Artwork by Quincy Raby
Black comedy. 2f/2m. 75 minutes.
Four very different commuters find themselves stuck in a surreal traffic jam. As the hours stretch into days, and then to weeks, they must redefine their previous notions of community.

Inspired by Julio Cortazar's short story, The Southern Thruway, INTO is the story of a magical traffic jam and the tiny, nearly perfect society that springs up amidst the heat and exhaust.

It's the end of a long, hot summer's weekend. Just outside the metropolis the traffic slows and then stops. As the minutes stretch to hours, the inhabitants of the jam move about their cars and begin to meet their neighbours. An Urban Nun has just returned from a backwoods conference that ended in a very Cardinal sin. A sultry beauty from Montreal is fleeing a bad affair. A disaffected white youth is merely lost, and a businessman is trying to keep all his balls in the air. As the hours become days, and the days become months, the quartet forms a confederacy, one of many along the freeway. And then something begins to change on their horizon…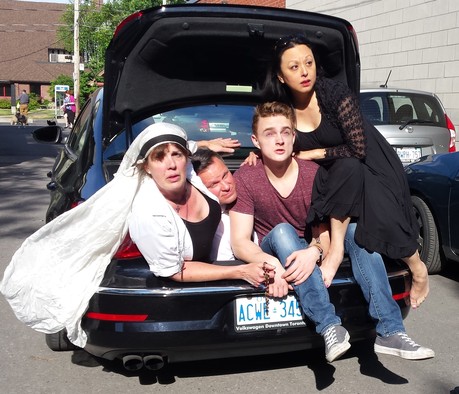 The cast of the 2016 Toronto Fringe production. Left to Right: DeAnn deGruijter, Walter Rinaldi, Randy Baumer and Jane Luk. Photo by Hilary Unger
Selected Reviews

"Dave Carley's comedy INTO is "inspired by Julio Cortazar's story The Southern Thruway". It is, in any case, inspired. The show is full of bizarrely funny scenes and lines. A must see." (The Globe and Mail)

"This wickedly funny and astutely observant play is as much about how we place ourselves into groups as it is about how to bring down the barriers between us." (Eye)

"An amusing, slightly absurdist comedy that uses the traffic jam as both microcosm and metaphor." (Toronto Star) 
"The first 20 minutes of this 1993 Canadian comedy will have you weeping with laughter as DeAnn deGruijter's down-to-earth urban nun relates the rowdy events that transpire at a nuns' country retreat..." (Now Magazine)
"Into was a hit at the Fringe twenty years ago. My best is that it's going to be a hit this year too. It's still fresh and funny, the best kind of dystopian comedy. I love Dave Carley's script. I admire anyone who can imagine nuns skinny-dipping and a traffic jam that lasts for months... This is a wonderful play. It's very funny and sometimes quite touching. I loved it. So did the restof the audience. So will you, I bet." (Mooney on Theatre)
Professor Len Falkenstein's review in Canadian Literature...
+++
INTO is dedicated to the memory of Gina Wilkinson (1950-2000). She was a colleague, collaborator and friend, whose wit and wisdom will forever be missed. Gina originated the role of Lucy. An award has been set up in her name - The Gina Wilkinson Award for Emerging Female Theatre Directors. For more information
+++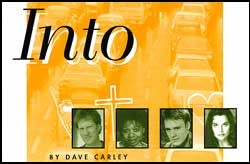 The publicity postcard for the Theatre Passe Muraille production of INTO. Left to Right: Geoff Bowes, Marium Carvell, Michael Waller and Gina Wilkinson.
Production History

INTO was first produced at the Toronto Fringe Festival in 1993. The cast and crew was:

Urban Nun - Marium Carvell
Disaffected White Youth - Michael Waller
Businessman - David Storch
Lucy Cormier - Gina Wilkinson

Director - Colin Taylor
Music Design by Jack Nicholsen and Paul Tedeschini
Assistant Director - Nadine Sivak
Stage Manager - Janet Gregor
Assistant Stage Manager - Kate Cayley

INTO was extended and the full-length version was produced at Theatre Passe Muraille in 1994, with the following cast and crew:

Urban Nun - Marium Carvell
Disaffected White Youth - Michael Waller
Businessman - Geoff Bowes
Lucy Cormier - Gina Wilkinson

Director - William Lane
Set and Costume Design - Glenn Davidson
Soundscape - Jack Nicholsen and Paul Tedeschini
Stage Manager - Janet Gregor
Technician - Nathaniel Kennedy
Assistant Director - Jocelyn Hublau
Assistant Stage Manger - Bella Srubiski



Randy Baumer and DeAnn deGruijter, in a scene from the 2016 Toronto Fringe production. Photo by Hilary Unger
Radio Version
INTO was inspired by a Julio Cortazar story, The Southern Thruway. Expanding on Cortazar's concept of an endless traffic jam, the story moved a continent or two, leapt forward a half century, introduced an Urban Nun and a Disaffected White Youth (among other characters) and became the stage play Into. A radio adaptation that adhered more closely to Cortazar's text was produced on CBC's Vanishing Point, and rebroadcast on Morningside. The cast of that production included Michael Ball, Brenda Robins, Rodger Barton, Jill Frappier and Wayne Robinson. Timothy Clark was composer and musician and Bill Lane directed. Other CBC celebrities who were involved in the production included Beth Russell, Ann Jansen, Glen McLaughlin,Cathy Perry, and Kate Nickerson. James Roy was the Executive Producer of Morningside Drama. The Southern Thruway was broadcast nationally on December 7, 1991. Thanks to Bev Cooper for ferreting out this information, which had hitherto been lost in the archives.
Publishing History:
The shorter, Fringe version of INTO was published in 1993 in a collection with Taking Liberties by Playwrights Canada Press. ISBN 0-88754-512-2. The longer, 85 minute version of INTO was published by Scirocco Drama, as part of a collection 3 Plays By Dave Carley. ISBN 0-920486-43-6. Series editor Glenda MacFarlane.