Urban Nun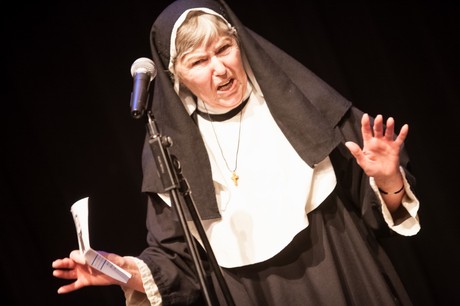 Jane Burpee as the Urban Nun. Hope McIntyre directed the performance as part of Sarasvati Production's Superwomen! Cabaret of Monologues in Winnipeg, March 2015. Photo by Janet Shum.
Synopsis:
A nun recounts a weekend in the country that ends in the venial sin of Cardinal murder, and the cardinal sin of isolation. A slightly different version of this monologue also forms part of a longer play, Into. The inspiration for it came from a Julio Cortazar short story, though the inspiration for the Urban Nun was very much a local thing, and based on a real Cardinal's suppression of progressive thought and action in Canada. 
Character:
URBAN NUN - any age.
Time:
Only slightly in the future.
The style and setting:
Should be a little magic. At the start, URBAN NUN is performing her story in a club. It's a routine and maybe a public expiation. As she gets further into the story and her anger deepens, magic elements appear - in particular sound.
Play history:
The wonderful Marium Carvell was the first Urban Nun, in a Toronto Fringe production of Into, directed by Colin Taylor.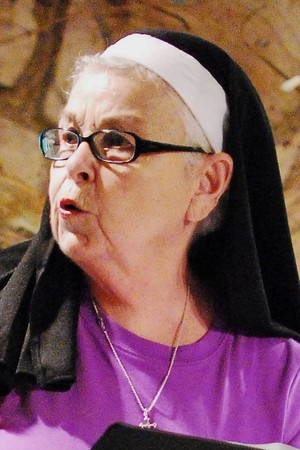 Kathy Burkman as the Urban Nun, in a Women at Play production, Columbus, Ohio. 


Zabryna Guevara, star of the USA Channel's 'Burn Notice' was the Urban Nun at NYC's Red Bull Theatre, June 2012. Gaye Taylor Upchurch directed.