Waiting For Grant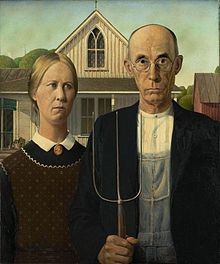 American Gothic by Grant Wood
The Victorians were fond of tableaux vivants, in which folks would get dressed up and pose as famous paintings. The practice also found favour in erotic entertainment, with models posing in the nude and – so long as they didn't jiggle – free from laws banning entertaining in the buff.

Tableaux vivants have always fascinated me, so maybe I've missed my era. The form continues at a few festivals around the world but I've only seen it in theatre: Sondheim's Sunday at the Park with George recreates the famous Seurat painting, and I once saw a performance of Evan Guilford Blake's Night Café, which ends in a delicious recreation of Edward Hopper's Nighthawks.

American Gothic, the iconic painting by Grant Woods, has been much parodied, and I've decided to have some fun with it as well. In truth, the models – Woods' sister Nan and his dentist, Dr. Byron McKeeby -  neither posed together nor sat with the house. (They did pose together for photographs many years later – with the painting, at the Art Institute of Chicago.) I have brought them together in this short piece, and have no qualms about this historical rejigging – Woods himself did his own revisioning of their appearance, and that of the house over the years, and even re-interpreted their relationship in the painting. 

Synopsis:
Grant Wood's painting 'American Gothic' is one of the most iconic works in modern American art. It has been much parodied over the years and the relationship of its two Iowan models have been the object of much speculation. Waiting for Grant is set in Woods' studio; his two models are awaiting his arrival, and their own immortalization...
Characters:
NAN WOOD: 32
Dr. McKEEBY: 62

Set:
Can be a bare stage. They are in a room in Eldon Iowa, Grant Woods' studio. In this piece, the stage should be relatively bare and small. All that is needed is a curtained window hanging upstage centre. McKeeby and Wood move about and never get into posing position until the end – when they form their own tableau vivant.

Length:
About 10 minutes.