After You
Drama. 4f/1m. Two acts. Complete text here.
Adele is dying - and her cousin Jean is helping her. But their final hours together are not as peaceful as they might wish - too many memories intrude.
Adele and Jean have returned to their cottage on Lake Kawartha, for one last summer. The island cottage is a grand and crumbling place full of memories, both good and bad. Adele has been ravaged by a stroke and can no longer move about her beloved island - except in her dreams. Jean is not well either, but is determined that her cousin's last summer on the lake will end with grace.

As Jean administers Seconal to her cousin, their memories continually invade - and most particularly they recall the summer of 1938 and the young man who was, in their minds, the "fork in the road", the one who determined the paths of their lives.

After You is a memory play without memories; the characters live simultaneously in the past and present, and time intermingles freely.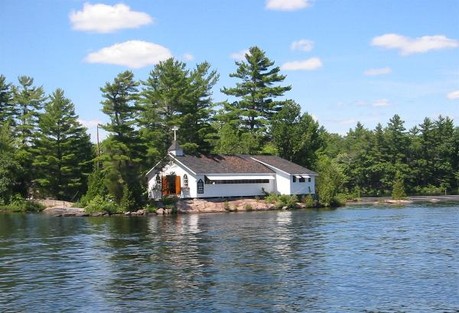 Production Details
After You was first produced by Alberta Theatre Projects in February 1994, under the title Kawartha. The cast included Joyce Campion, Megan Leitch, Chris Mackie, Anne McGrath and Gina Wilkinson. It was directed by Colin Taylor.

The play was extensively revised and renamed After You. It was next produced at New Stages Peterborough, in July, 1998, with the following cast and crew:

Young Jean- Camille Stubel
Young Adele - Maureen Kirkpatrick
Jean - Charmion King
Adele - Corinne Conley
Paul/Jeffery - Jason Jazrawy

Director - Sue Miner
Set Designer - Al Tye
Lighting Designer - Detlev Fuellbeck
Costume Designer - Brenda Guldenstein
Technical Director - Don White
Stage Manager - David Anderson
Assistant Stage Managers - Mary Helen Moes and Elizabeth Lashmar
Props - Kevin Rooney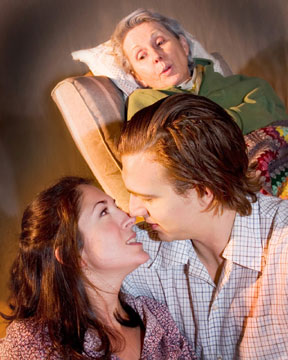 Elva Mai Hoover (Adele) watches over her younger self (played by Alicia Flaherty)
and a gentelman caller from five decades earlier (Aaron Hutchinson).
Jane Carnwath directed the 2005 Alumnae Theatre Production. Photo by Luke Mattar.

Selected Reviews

"Funny and poignant" (The Globe and Mail)

"A finely nuanced memory play … compassionately laying bare the truth we hide from ourselves as well as from others." (NOW)

"When intelligence and wit collide with sensuality and animal magnetism, fascinating theatre is the result. After You shimmers with a vitality rarely captured in contemporary productions that tackle complex issues unabashed, head on and with no apologies." (Peterborough Examiner)

"Comic, touching, sensual and occasionally ironic." (NOW, of the Alumnae Theatre production)


Publishing History

After You was published by Scirocco Drama in 1995. ISBN 1-896239-00-5. $12.95

Producers please note: an extensively revised manuscript can be obtained from the playwright's agent, or download from above.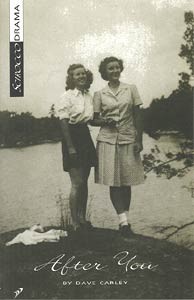 Although they in no way resemble to the two women in the play,
I used this shot of my Aunt Christine Johnston (L) and my mother Margaret Carley for the cover.
They're standing on an island in Ston(e)y Lake, which does indeed resemble the Lake Kawartha of the play. Lakes can't sue.