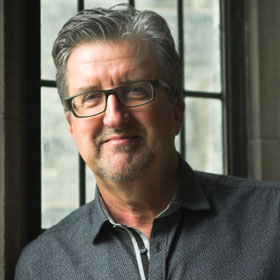 Photo credit: Stephanie Hanna
---
... And that's where I stand now. Not Shrimp. Not Baby-face. Not Peach-face' or 'Squib'. Definitely not 'Do It Yourself Mowat'. In the last few minutes everyting has changed. We just got our marching orders. We're shipping out tonight... The grand adventure. It's about to begin...


(FARLEY, And No Birds Sang)
home
Dave Carley is a Canadian playwright. His plays have had over 450 productions across Canada and the United States, and in many countries around the world. They include Writing with our Feet (nominated for the Governor General's Award), The Last Liberal, The Edible Woman and, most recently, Twelve Hours, Canadian Rajah and The Shakespeare Club. 
Many of Dave's plays can be ordered directly online from his publisher, Scirocco Drama. They include Canadian Rajah (publication date - Fall 2021), Twelve Hours, The Last Liberal and Three Plays (Writing with our Feet; Midnight Madness; and Into).
what's new...
Coming to the Windy City... a little radio noir...
Don't confuse Mister In Between with that little lament by Burl Ives. This play is an urban saga of confused love, reeking alleyways, and misleading billboards. And it's part of the Crashbox International Festival this month...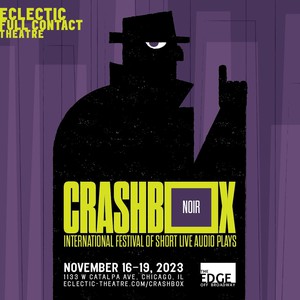 ---
Port Hope Arts Festival - August 12
The loveliness of downtown Port Hope is the setting for the third annual 10 Minute Play Festival. Mark your calendars to come and see a full day's worth of short plays at a variety of outdoor venues. It's a dramatic free-for-all that's free for all, courtesy of the Town of Port Hope. One of the works will be Dave's collection of moments from the beginning chapters of Farley Mowat's war memoir And No Birds Sang. Mowat (pictured below) was a long-time resident of Port Hope and the play, which stars Aaron Macpherson, will be staged appropriately in Farley Mowat Park, on the east side of the Ganaraska.
Dave's short play He Won't Marry Me is also being produced at the festival, starring Alison Beckwith and Hayden Finkelshtain.
More info on some of the other shows by a wide range of authors, as well as the Playwrights Canada-sponsored playreadings, to come...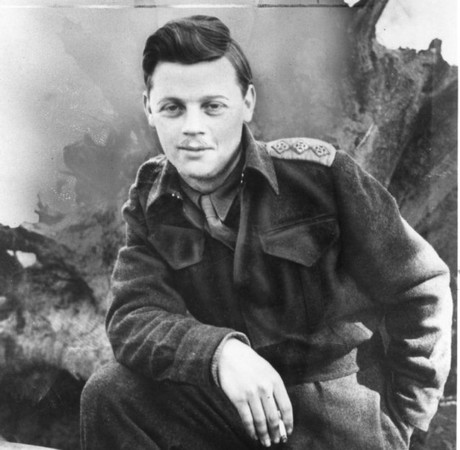 He Won't Marry Me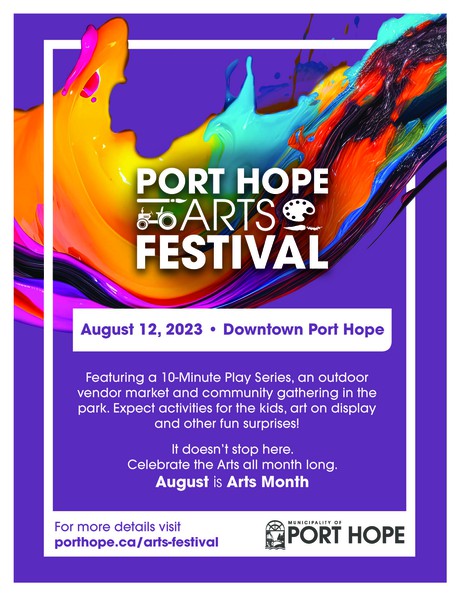 He Won't Marry Me
---
 On Beauty - in the UK...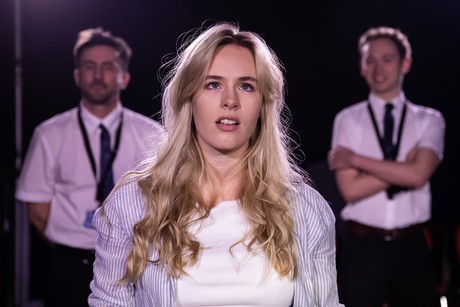 On Beauty at Britain's INK Festival, in April. Some phyical comedy trigged by the Stendhal Syndrome. Cast: (rear L to R) Adam J. Carpenter and Isaac Franklin. About to faint in the foreground Madeline Salter. Vincent Franklin directed. Julia Sowerbutts, Artistic Director.
For the text, go to Short Plays - Love - On Beauty or read it here
---
Shakespeare Club - October 1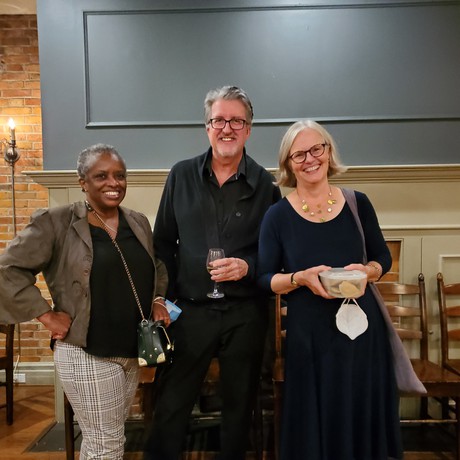 This is an after shot: a successful week of shows at Campbell House... Marcia Johnson and Bev Cooper (with the perogies) celebrate at the gala fundraiser at Campbell House. Money raised for Ukraine + some Art and 400 perogies...)
Barring any further interruptions, The Disruptors project will be taking over Campbell House Museum in the last week of September. Four new plays will get rehearsed readings - including work by Beverley Cooper, Marcia Johnson, and Vince Dieulis. Proceeds from the series will be donated to Ukraine's Donetsk Regional Drama Theatre of Mariupol.
The four play series winds up with Dave's new play, Shakespeare Club, directed by Severn Thompson. 
"An ice storm has locked-in Peterborough. The streets are nearly impassible. Hydro lines are being bought down by heavy branches. Nevertheless, a determined group of women is gathering in one of their homes, to study Shakespeare.
The storm raging outside the Shakespeare Club's meeting is soon matched by conflict inside. Intellectual discourse is disrupted by ancient rivalries - and a little magic. By the time hydro is restored to the storm-tossed city, the club's power structure has split, and minds are cracking open."
Shakespeare Club is set for Saturday, October 1 and stars Kyra Harper, Elva Mai Hoover and JD Leslie. The evening is - as with the preceding plays - a fundraiser for the Donetsk Regional Drama Theatre of Mariupol and includes the reading and a reception following in the Museum's Pioneer Kitchen and Robinette Pub. Tickets are $50. To order tickets, click here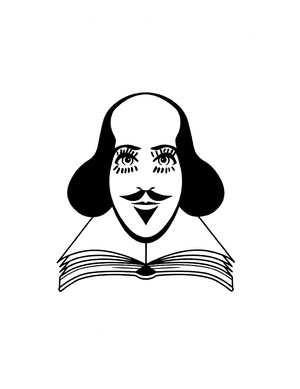 ---
Canadian Rajah - hot off the press!
Canadian Rajah has just been published, as part of Scirocco Drama's 2021-2 season. The book includes a forward, afterword and a special reminiscence by Esca Brooke Daykin's granddaughter, Joan Brown. Order your copy!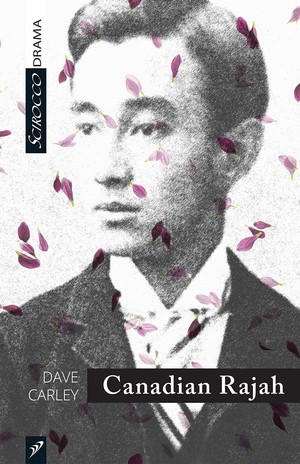 ---
Megan Follows Records Emily of New Moon Adaptation - NOW RELEASED!
Megan Follows has recorded an audiobook presentation of the Lucy Maud Montgomery classic, Emily of New Moon. This new adaptation, by Dave Carley and Beverley Cooper, is available, in a Voices in the Wind Audio Theatre Production from Blackstone/ Audible.
Megan Follows' interview about the project with Chris de la Torre on CBC's Afternoon Drive...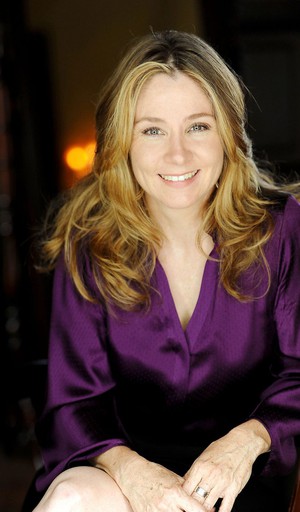 ---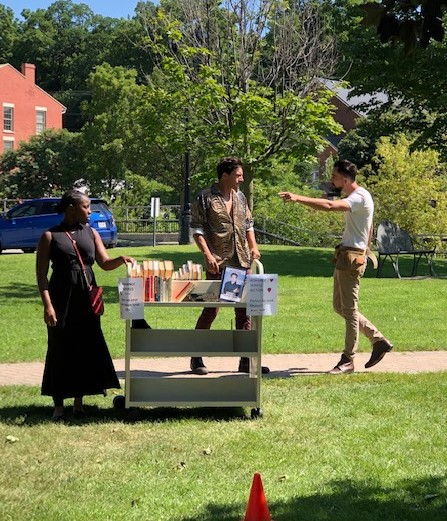 Spend a Summer's Day in Port Hope!
It's a laidback arts festival with something for everyone. And once again the Port Hope Art Festival will include short plays, staged about the downtown, curated by Dave Carley. This year is much-expanded and there will be non-stop action in six  locations south of Walton Street. You can wander about and watch new works by Mark Brownell, Sean Carthew, Marcia Johnson, Jean Parker, D'Arcy Jenish and quite a few more. Dave's new short play Almost Woodstock is also premiering. The plays will all have multiple performances throughout the day and are free...  The PHAF is Saturday, August 13 - all day - downtown...from 11 am till 4. Bring a folding chair! And it will end with special readings by Marcia Johnson and the Capitol Theatre's Rob Kempson.
Above: A scene from the 2021 festival -  Dave Carley's Really True Romance, featuring JD Leslie, Scott Baker and Tristan Claxton. 
The 2022 line-up!
The Little Station - Lent Lane: Ray's Big Day by D'Arcy Jenish and Table Top by Mark Brownell.
Lent Lane and Augusta Street - Almost Woodstock by Dave Carley
My Sister's Closet porch - Evelyn Goes to War by Sean Carthew
Gazebo in Rotary Park - Howard and Hope by Janet Kish
Rotary Park North - Go Fish by Sean Carthew and Gert and Prune by Jean Parker
Under the Big Tree across from the Library - Storytime with Marcia Johnson
And - sponsored by the Playwright Guild of Canada's Connect Program - New Work Readings with Rob Kempson and Marcia Johnson - on the verandah of The Little Station at 3 pm.
---
Popinjay hits You Tube...

Hear - and see - it on You Tube!

Friends of Freddy is nearly 40. For the first time, the registered US charity is having a virtual convention, "Cyberboro". And the jewel in the crown - or maybe the feather in the cap - is a You Tube puppet play, Popinjay. It features a script by Dave Carley, freshly torn from the pages of Brooks' Freddy and the Popinjay (widely regarded as one of the best in the series) + amazing puppets created by Mary French + text voiced by the uber-talented Mark Brownell + produced by the equally uber-talented Glenda MacFarlane...
Popinjay goes live on You Tube at 7 pm Saturday October 17. Prior to that there is a glittering 6 pm Zoom reception...
---
---
LIFE BEFORE, DURING and AFTER a PANDEMIC:
Did you hear the one about the playwright in a pandemic? OK, too early for that - but I can report that there is life after and during social isolation. While I miss getting out and sampling Toronto's rich variety of shows - and even as I mourn a few lost productions - I can tell you that I am enjoying this gift of a time to write.
I'm finishing a new play and working with playwright Beverley Cooper on an audiobook production. And there may be a graphic novel in the works, too. Suddenly, I have the time!
I should also say how tremendously lucky I feel that the two productions detailed below - the sold-out New Stages presentation of Canadian Rajah and the Campbell House production of Taking Liberties - were able to get in "under the wire". 
I look forward to the return to normal - whatever normal may be - and wish everyone health, sanity and creativity in these unusual times...
And speaking of that return... I have just finished a great workshop of my new play Extinction, with Anne Page and Tristan Claxton. And, in tandem with Beverley Cooper and Deb Drakeford, plans are unfolding for an innovative festival at Campbell House Museum... 
Now closed: CANADIAN RAJAH - COMING TO PORT HOPE ARTS FESTIVAL 
Canadian Rajah is being produced and performed at the Port Hope Arts Festival. The festival itself is a combination of virtual and non-virtual events, including art installations around the town, engineered by Herb Jung. Northumberland 89.7 has recorded Canadian Rajah with actors Jonathon De Leon and Barbara Worthy, Victor Svenningson doing sound and Cecily Smith directing. It will be broadcast during the festival itself. For more information on the Port Hope Arts Festival go here.
Now closed: CANADIAN RAJAH - COMING BACK - To PETERBOROUGH!
"Bravo to Dave Carley for discovering this gem of a story and writing this fascinating play, and bravo to the two actors who faced several challenges to bring it to life." (Lynn Slotkin, the Slotkin Report)
"The beauty of Canadian Rajah is the ambitious stakes that playwright Dave Carley sets for himself, which the cast and crew quite admirably exceed... Canadian Rajah is both educational and entertainment - without skimping on either." (Mooney on Theatre)
Link to read more about Canadian Rajah
A great article by Sam Tweedle in Kawartha Now
Canadian Rajah is hitting the road. The first stop is being produced by New Stages in Peterborough. A one night only event will take place at the beautiful Market Hall Theatre on Sunday, March 8, including a full performance and talkback following. The stars of the Toronto production, Jon de Leon and Barbara Worthy will be reprising their roles. 
Below - Esca Brooke Daykin...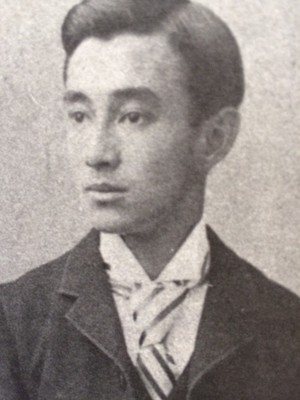 ---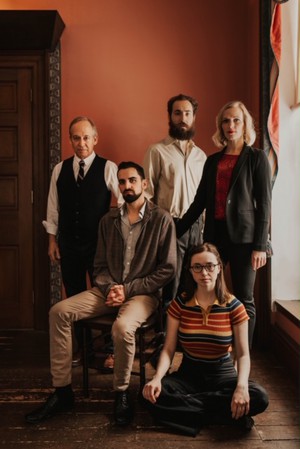 JUST CLOSED: Taking Liberties at Campbell House! THANK YOU TORONTO - 12/18 performances sold out!!! 6 Terrific talkbacks! Two amazing galas! 
"In these fractious times, Dave Carley's play Taking Liberties is more important than ever... Taking Liberties, with its focus on civil liberties, freedom of speech, responsible journalism - not matter how unpopular th opinion - makes it as timely today as it was 30 years ago when the play was first performed... Dave Carley's bracing, challenging play is more vital and important than ever before. Alas." (Lynn Slotkin, The Slotkin Letter)
+++
A new production of Taking Liberties is coming to Toronto. This is its fifth production in Toronto since it was written thirty years ago. For more information on the February 2020 presentation, check out the Taking Liberties website.
The Campbell House production of Taking Liberties is cast - and it's a great one! The actors re Alison Beckwith, Tristan Claxton, Hayden Finkelshtain, John Jarvis and Cecily Smith (below). Cecily is also directing.
The play and Venue
Thirty years later... Taking Liberties returns for another production in Toronto. The venue is the ballroom at Campbell House Museum and the play will run in the museum's ballroom for three weeks in February, from the 5th to the 23rd. A series of seminars and readings will run in conjunction with the production, highlighting the play's focus on civil liberties issues.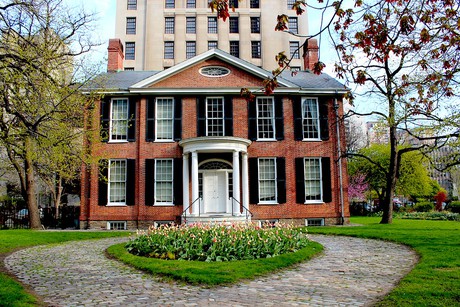 4 Classic Horror Stories
Beverley Cooper and I have adapted four classic horror stories for audio, and they are now available from Audible. The collection includes Bewitched by Edith Wharton, The Black Cat and The Tell-Tale Heart by Edgar Allan Poe and The Body Snatcher by Robert Louis Stevenson. Each story is chillingly enhanced by  music and sound effects, by audio producer David Farquhar.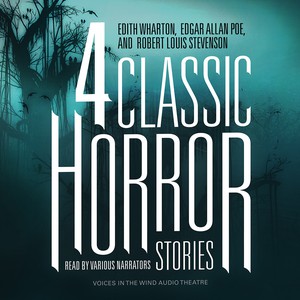 Digging Up Hoffa
The 1975 disappearance of Jimmy Hoffa continues to fascinate North Americans. A great deal of time and money has been spent looking for Hoffa's body. Meanwhile, in a tiny house in a Detroit suburb, a mother worries about her future, and that of her grown son. She's a resourceful woman - and decides that desperate times require bold action.
Digging Up Hoffa is now available from ArtAge. 
Digging Up Hoffa is a one act play and its current production schedule bears out our ongoing fascination with Hoffa, even fictionally. 2017 has seen three productions thus far, and one more about to happen...
- A live recorded presentation by Radio Theatre Project in Tampa in January
- Shakespeare in the Burg, Williamsburg VA March
- North Park Theatre, San Diego CA May
- Boxfest, Detroit Michigan, Aug 19-26 
Here's Jimmy in livelier times: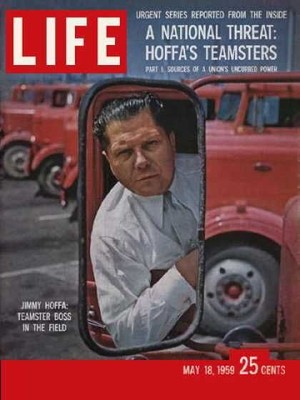 Urban Nun Published...
Urban Nun, the stand-alone opening monologue from INTO has just been published in 'Red Bull Shorts', a volume of short plays celebrating the best of the Red Bull Theater Short New Play Festival. Urban Nun was produced at the New York City festival in 2012. The Steele Spring publication also features short plays by John Guare, David Ives and Jen Silverman, among others.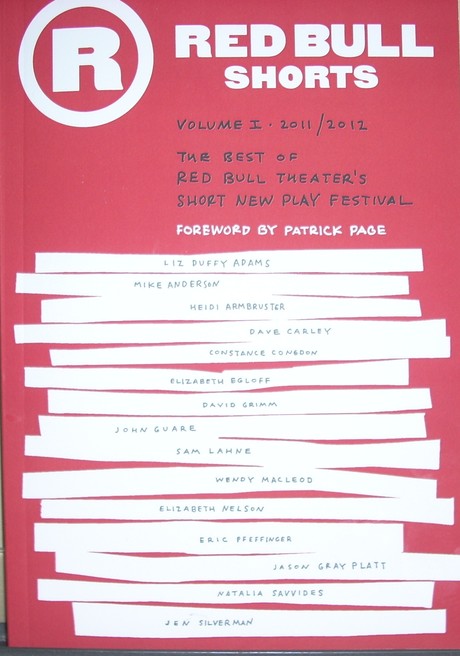 He Won't Marry Me