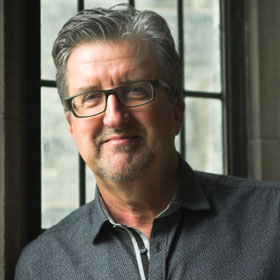 Photo credit: Stephanie Hanna
---
Everything in my garden is from somewhere else. My magnolia tree is a hybrid from China. I purchased it at a nursery in Ottawa. I bought the bulbs for those irises at a botanical garden in New Jersey. That white pine? Transplanted from my cottage near Kingston. And then there's me. (Produces a letter.) According to this, I crawled out of a cave, somewhere near Madoc, Ontario.
Esca Brooke Daykin in Canadian Rajah - Returning in February 2020 to Toronto...
home
Dave Carley is a Canadian playwright. His plays have had over 450 productions across Canada and the United States, and in many countries around the world. They include Writing with our Feet (nominated for the Governor General's Award), The Last Liberal, The Edible Woman and, most recently, Twelve Hours, Canadian Rajah and The Shakespeare Club. 
what's new...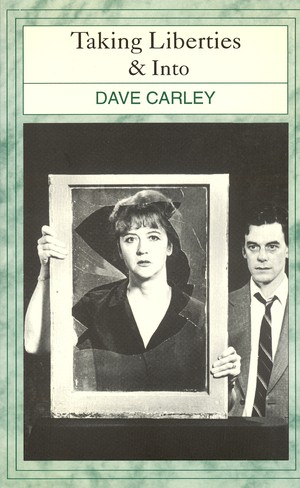 27 YEARS LATER!
Taking Liberties was first produced as a staged reading at the Alumnae Theatre New Ideas Festival in Toronto. The performance was recorded live and broadcast nationally on CBC Radio's Stereodrama program. The cast consisted of Tanja Jacobs, Albert Schultz, Stephanie Morgenstern, Chris Wiggins and Edward Roy. Stephen Ouimette directed and Heather Brown produced the radio version.
The stage version of Taking Liberties premiered at the 1992 Vancouver Fringe Festival. Jan Carley directed Gillian Barber, Joe-Norman Shaw, Celine Richmond, Bernard Cuffling and Andrew Wheeler. The Toronto premiere took place that fall, with Stephen Ouimette once again directing. The cast was Dixie Seatle, Michael Caruana, Stephanie Morgenstern, Gary Reinecke and Tom McCamus.
Over the intervening years, Taking Liberties has been produced many times across North America, including productions in New York City, Peterborough, Ottawa, and two Toronto remounts. A film version was produced for the Bravo! Network, starring Sara Polley. Above: the cover of the Playwrights Canada publication with a a photo by Nir Bareket, and featuring Dixie Seatle and Tom McCamus.
COMING UP! This summer, Taking Liberties returns in a new production, as part of the Port Hope Arts Festival. The production will take place August 9-11 and the cast will include Anne Page, Scott Kuipers, Vince Deiulis and Wyatt Lamoureux. Ticket information soon!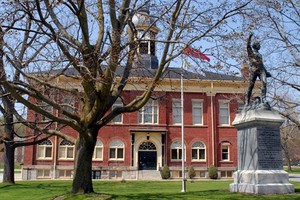 The Port Hope Town Hall. Taking Liberties is being produced in the Council Chambers.
---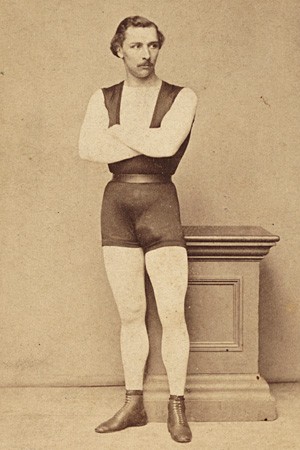 That modest leftist, Jules Leotard
Monsieur Leotard Swoops in on Newmarket...
July 22 - 27 NewMarket National Play Festival. Ticketing details to come...
He was the original daring young man on a flying trapeze. In order to better perform his acts of athleticism, Jules Leotard encased his gorgeous physique in a flexible, body-revealing costume that set Parisienne hearts aflutter. Soon M. Leotard was not only the nation's top athlete - he was also ravishing half of Paris.
Jules Leotard (the trapezist) was eventually nudged out by other ever-more daring performers. He died in 1870, at the age of 32 - officially of smallpox but more probably from something venereal.
Hd left a small legacy: that sexy outfit eponymously named in his honour - and a very bitter wife. And, if this short play is to believed, he very nearly didn't leave the latter...
---
Add Some Horror to Your Life!
Dave Carley's audio adaptation of The Body Snatcher by Robert Louis Stevenson is being released by Blackstone Audio on November 14. Running at 35 minutes, the production by Design Sound Productions is narrated by British voice actor David Ault. (Ault is currently touring North America with No Sleep Podcast.) 
The Body Snatcher is now availabe from Wal-Mart. Order here.
The Body Snatcher is available on Google Play. 
The Body Snatcher is also available from Blackstone Audio at its Downpour site.
Body snatching, murder - and ghostly retribution! These are the ingredients of one of the greatest horror stories ever written. This new adaptation of The Body Snatcher is made even more terrifying with music and sound effects. 
For more information on The Body Snatcher
Also being released by Voices in the Wind Audio Theatre and Design Sound Productions is a new adatpation by Beverley Cooper of the Edith Wharton classic, Bewitched.
Wharton lures you into the ghostly heart of New England, circa 1926. It's a time when ghosts roam the barren hills, and horror stalks the lonely inhabitants with devastating results.
Bewitched runs 55 minutes and is read by Barbara Barnes. For more information on it - and on Beverley Cooper - click here.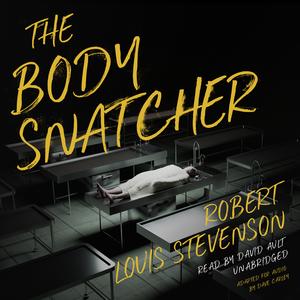 ---
CANADIAN RAJAH - COMING BACK SOON!!!
"Bravo to Dave Carley for discovering this gem of a story and writing this fascinating play, and bravo to the two actors who faced several challenges to bring it to life." (Lynn Slotkin, the Slotkin Report)
"The beauty of Canadian Rajah is the ambitious stakes that playwright Dave Carley sets for himself, which the cast and crew quite admirably exceed... Canadian Rajah is both educational and entertainment - without skimping on either." (Mooney on Theatre)
Link to read more about Canadian Rajah
It's almost official! Canadian Rajah will be returning to the ballroom of Toronto's Campbell House, after a sold-out run this past January. The incredible (and true) story of Esca Brooke Daykin, Canadian Rajah starred Barbara Worthy and Jonathan de Leon. Sarah Phillips directed. And, as Lynn Slotkin suggests, the road was "challenging", with a last minute cast replacement for health reasons, and a seemingly endless stream of weather curveballs! But reception was ecstatic and sold-out houses have convinced the Collective that a remount is in order.
WATCH THIS SPACE FOR DETAILS!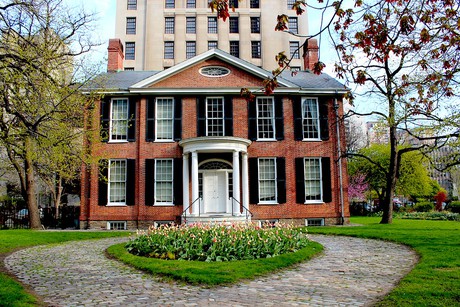 ---
UPDATE: COMING TO COLUMBUS OHIO in AUGUST!
Box office details soon in this space.
The Shakespeare Club at the Market Hall Theatre, Peterborough: A sneak preview of Dave's new play, The Shakespeare Club - was presented at the Market Hall Theatre, Sunday March 18 at 7:30 pm. The true story of a 120 year old club in Peterborough devoted to the study of The Bard - and beyond. The setting is 1953; the city is locked in an ice storm, and two women are crawling up Stewart Street Hill. That part is true; what comes next is two parts fiction...
The reading featured actors Robin Craig, Julia Course and Chick Reid. The artistic director of New Stages, Randy Reid, directs.
The Shakespeare Club premieres in Columbus, Ohio in July and August 2019; more information soon in this space.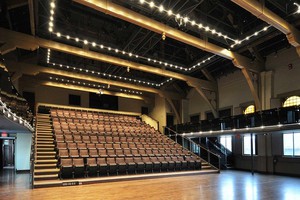 ---
Digging Up Hoffa
The 1975 disappearance of Jimmy Hoffa continues to fascinate North Americans. A great deal of time and money has been spent looking for Hoffa's body. Meanwhile, in a tiny house in a Detroit suburb, a mother worries about her future, and that of her grown son. She's a resourceful woman - and decides that desperate times require bold action.
Digging Up Hoffa is now available from ArtAge. 
Digging Up Hoffa is a one act play and its current production schedule bears out our ongoing fascination with Hoffa, even fictionally. 2017 has seen three productions thus far, and one more about to happen...
- A live recorded presentation by Radio Theatre Project in Tampa in January
- Shakespeare in the Burg, Williamsburg VA March
- North Park Theatre, San Diego CA May
- Boxfest, Detroit Michigan, Aug 19-26 
Here's Jimmy in livelier times: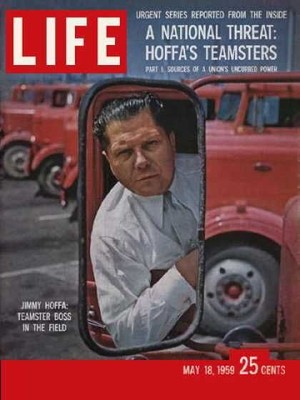 ---
Climbing To God in Illinois...
Maybe and Rose are sick of their lives in the tiny Yorkshire village of Oxgodby. More to the point, they are sick of the men in their lives, Alf and Alf. At Mabel's behest, they've decided to visit God, whom they believe resides six miles above earth in a small box. The women are adherents of the Muggletonian faith, which holds that women can be returned to life on earth as men. Mabel and Rose both have their own reasons for wanting to make the change. The play opens just after they've begun their ascent.
A special reading of Climbing to God is happening as part of the Rockford New Play Festival at the Mendelsohn Performing Arts Center in Rockford, Illinois. August. The text will be available after the premiere, on this website in September.
The Muggletonians
A small Protestant Christian sect, the Muggletonians were founded in 1651, when Lodowick Muggleton and a tailor-colleague announced they were the last prophets, as foretold in The Book of Revelation. Among other beliefs, the Muggletonians held that God had appeared directly on Earth once as Jesus Christ, and now He could care less about everyday events on this benighted planet. In fact, God apparently wasn't planning to make another appearance until it was time to bring the world to an end. In the meantime He was living in a small box six miles above Earth.
Devout Muggletonian women like Mabel and Rose could be reborn as men, which author J.L. Carr said contributed greatly to the sect's attraction for the fairer sex. Muggletonians didn't have church services, but would meet in pubs for socializing, endearing the faith to many men.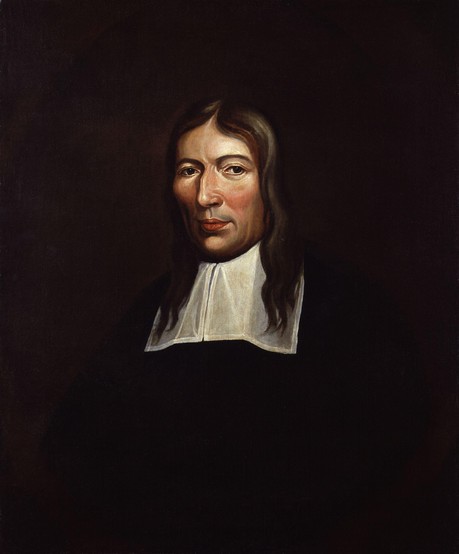 Lodowick(e) Muggleton. Perhaps proof that one need not be Godlike in appearance to found a religion.
I would not have discovered the eccentric sect known as the Muggletonians were it not for J.L. Carr. The author of the Booker-nominated novel A Month in the Country, Carr also self-published a series of small books, wonderful curiosities of facts and foolishness. A brief teaser of information on Lodowick, the sect's eponymous founder, can be found in Carr's Welbourn's Dictionary of Prelates, Parsons... 
Climbing to God is dedicated to J.L. Carr.
---
Urban Nun Published...
Urban Nun, the stand-alone opening monologue from INTO has just been published in 'Red Bull Shorts', a volume of short plays celebrating the best of the Red Bull Theater Short New Play Festival. Urban Nun was produced at the New York City festival in 2012. The Steele Spring publication also features short plays by John Guare, David Ives and Jen Silverman, among others.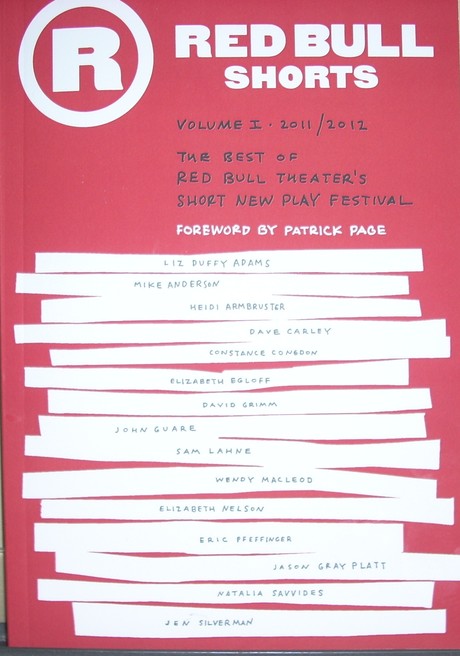 ---
Just Arrived at a Bookstore Near You...
Twelve Hours has just been published by Scirocco Publishing. It can be ordered through your favourite bookstore or from Playwrights Guild of Canada.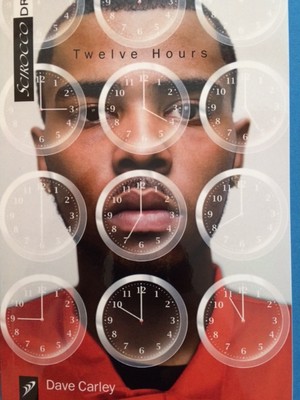 Twelve Hours premiered last year in Columbus, Ohio. The Columbus Dispatch hailed it, saying, "Twelve Hours packs a lot of humanity into 90 minutes of gripping theatre."
canadian rajah
canadian rajah