Twelve Hours
NAMED ONE OF COLUMBUS OHIO's TOP PRODUCTIONS OF 2014 (Dec 29; Columbus Dispatch)
Twelve Hours packs a lot of humanity into 90 minutes of gripping theatre... Eight beautifully written characters are vividly realized... This simply staged piece about a seemingly imminent death paradoxically brims with life. (Columbus Dispatch)
A powerful and engaging work... a moving theatrical experience. (Ohio Jewish News)
Click here to read the complete text of Twelve Hours.
Twelve Hours tells the story of the last hours on Death Row of a young man convicted of murder, as seen through the eyes of those who are involved in both his life, and his execution. The opening sequence of the play premiered at Forward Theatre, Madison, Wisconsin, under the title His Last Supper. November, 2012, with the following artistic team: Michael Herold (LEWIS), Annelise Dickinson (Director) and Jennifer Uphoff Gray (Artistic Director, Forward Theater). It then toured various venues in Madison in March, 2013.
The full length premiere opened on March 28 at the Garden Theatre in Columbus, Ohio, in a co-production of Short North Stage and Wild Women Writing. Kathy Burkman directed.
For performance rights or a reading copy of the script, contact the Playwright's agent, Pam Winter.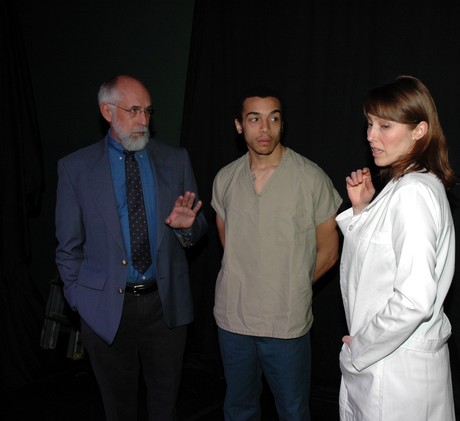 David Fawcett, Taylor Martin Moss and Emily Bach in the world premiere of Twelve Hours.
Photo by Allan Burkman.
NEWS: UPDATE DEC 29, 2014: TWELVE HOURS NAMED ONE OF COLUMBUS OHIO's TOP PRODUCTIONS FOR 2014. (COLUMBUS DISPATCH and AREA CRITICS)
NEWS: TWELVE HOURS UPDATE: Twelve Hours has finished its run at the Garden Theatre in Columbus, in a co-production of Short North Stage and Wild Women Writing. The production received rave reviews, including this from the Columbus Dispatch:
"Twelve Hours packs a lot of humanity into 90 minutes of gripping theatre... Eight beautifully written characters are vividly realized... This simply staged piece about a seemingly imminent death paradoxically brims with life." (Columbus Dispatch)
PUBLICATION OF TWELVE HOURS is part of Scirocco Publishing's new season!