Writing with our Feet
Black comedy. 1m/1f. 90 minutes.
Read text of Writing with our Feet
 Jean-Francois is an agoraphobic, living out his life in a garage underneath an access ramp in Montreal. His beloved sister Sophie has just died. She had been his contact with the outside world and, now that she is gone, the future looks grim for JF.
But suddenly a series of visitations begin - some astonishing, some upsetting. JF's sanctuary is invaded by his Cousin Alphonsinette and her miraculous invention; his battle-axe Aunt Zenaide, the famous industrial designer Raymond Loewy, his onetime girlfriend Lucy Cormier and the parish priest, Father Rocky.
Hovering above them all is JF's guardian angel, his sister Sophie. She must furiously orchestrate her brother's emergence into the wider world, before she disappears forever into the ether.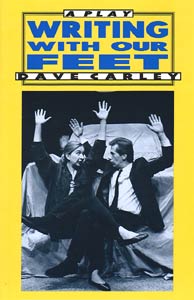 The cover of the Blizzard publication. Tanja Jacobs and Stephen Ouimette featured. Photography by Nir Bareket
 
From the dedication to the book:
My sister and I really did learn how to write with our feet. It was 1964 and the recent, unexpected death of a president was weighing heavily on our minds. If Kennedy could be bumped off so easily, what horrors awaited two youngsters living in Camelot's northernmost suburbs? At the very least: the loss of our hands. We were not impressed by our school insurance forms, which promised us a windfall $500 for each lopped-off extremity. We knew this wouldn't be enough. We knew we had to develop competent back-up systems. The entire neighbourhood could play at being outdoors children, but my sister and I huddled in the dark, practising with our toes for an inevitable physiological Armageddon.
Nearly three decades have passed. Neither my sister nor I has yet to lose a body part. I'm beginning to think that footwriting in a darkened room while the rest of the world romps in the sun is some kind of metaphor.

Jean-Francois, my footwriting hero, eventually realizes his feet are best used for walking out into the world. My sister and I? We gave up footwriting and went into theatre. My sister found theatre first, but then again she was always a much better footwriter. This play is dedicated to her.
For Jan Carley.
---
The First scene from Writing with our Feet
---
Production History
Writing With Our Feet was first produced as a one act play, consisting of about the first twenty minutes of the full-length work, at Alberta Theatre Projects' playRites 90 Festival. (Bob White, artistic director.) It was workshopped by Vancouver's Dark Horse Theatre in 1990 and given a stage reading as part of the New Play Centre's Spring Rites Festival. Robert Garfat directed.
The full length version of Writing With Our Feet opened at Hamilton's Theatre Terra Nova in 1990, with the following cast:

Jean Francois - Nigel Hamer
Sophie et. al. - Suzanne Belanger

Director - Kevin Land
Set Design - Michael Adkins
Lighting Design - Christopher McHarge
Stage Manager - Barb Wright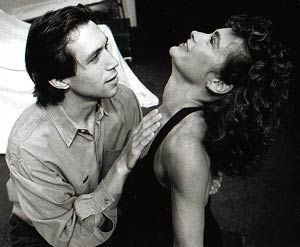 Kevin Black and Debra Gordon, from the Carnegie-Mellon Showcase production, Pittsburgh, 1991. Ken Andreyo photographer.

Selected Reviews

"Literate, thoughtful, bizarrely hilarious - it is a play that urges and celebrates any leap of faith." (Hamilton Spectator)

"Wonderful fun! Fanciful and hyperactively witty!" (Globe and Mail)

"Clever, elegant humour. Imaginative flights of fancy…" (Toronto Star)

For the Len Falkenstein review in Canadian Literature, click here...

Publishing History

Writing With Our Feet
was originally published by Blizzard Publishing in 1992. ISBN 0-921368-20-8. Price: $10.95. It has been reprinted various times and is currently available in the anthology Three Plays (Scirocco). ISBN 0-920486-43-6