The Edible Woman
Based on the novel by Margaret Atwood

Black comedy. 3m/3f. 2 acts.

Read the text of The Edible Woman

Marian's life seems to be perfect: a good job, interesting friends and a handsome fiancé. So why does she think she's going mad?

The Edible Woman was Margaret Atwood's first novel and it was an auspicious debut for the internationally renowned writer. With wit, affection and dollops of irony, Atwood traces the journey of Marian, a young woman who has embraced the consumer society. Marian has a good job and a handsome lawyer-fiancé, Peter. But slowly her world starts slipping out of focus and, instead of consuming, Marian begins identifying with the things consumed. Her home life is also spiraling out of control - her roommate Ainsley has decided to become pregnant, their landlady is on the warpath, and then there's the strange young man she just kissed at the laundromat…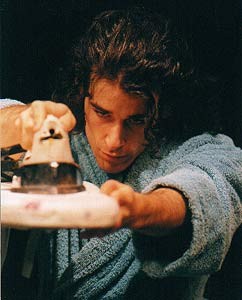 Michael Messer (Duncan) in The Festival of New Works production, Ann Arbor, Michigan. Production photo by Harry Bloomberg.
The Edible Woman is a black comedy, set in Toronto in the mid-Sixties. The novel was published in 1969 and was startlingly prescient; if anything, its take on consumerism and the gender wars rings even louder today, over thirty years after the novel's publication.

Margaret Atwood is the author of ten novels, including Life Before Man (1979); The Handmaid's Tale (1985); The Robber Bride (1993); Alias Grace (1996); and The Blind Assassin (2000). She has also written many books of poetry, literary criticism and novels for children. Margaret Atwood has won innumerable awards for her writing, including the Booker Prize, The Giller Award and the Governor General's Award for Fiction. She has been translated into over thirty languages. Margaret Atwood lives in Toronto.

Production History and Original Cast
The Edible Woman (the novel) was first published in 1969 by McClelland and Stewart. A quarter century later, Dave Carley dramatized it for radio, and that version was broadcast on CBC's Sunday Showcase, Monday Night Playhouse and This Morning programs in 1996. The cast included Martha Burns, Ann-Marie Macdonald, Michael Riley and Albert Schultz. Heather J. Brown was director.

The Edible Woman (the stage play) was first presented at the Festival of New Works at the University of Michigan in Ann Arbor, in May, 2000. The cast consisted of Nona Gerard, James Meade, Michael Messer, Casey Murphy, Julia Siple and Cecily Smith. Sara Chazen was director.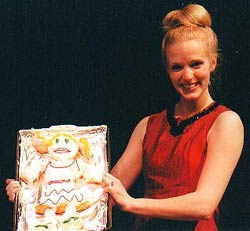 Cecily Smith (Marian) from the Festival of New Works presentation, Ann Arbor, Michigan. Production photo by Harry Bloomberg.

The Edible Woman premiered at Theatre on the Grand in Fergus, Ontario, in October 2000, with the following cast and crew:

Peter - Steven Guy-McGrath
Marian - Kate Hemblen
Duncan - Darren Keay
Ainsley - Kim Kuhteubl
Len - Michael Waller
Landlady/Lucy/Trevor - Marjorie Wingrove

Director - Christopher McHarge
Associate Director - Michael Waller
Set Designer - Christopher Haupt
Lighting Designer - Karen Bayer
Stage Manager - Bill Brillinger
Assistant Stage Manager - Eric Goudie

Selected Reviews

Of the Vancouver Playhouse-CanStage (Toronto) co-production in February, 2002:

"Dave Carley's adaptation is a skilful amalgamation of the book's major characters and scenes, using a generous amount of Atwood's devastatingly dry verbal humour." (Toronto Star)

Of the Fergus, Ontario premiere in October, 2000:

"One of the most exciting theatre events this fall." (Hamilton Spectator)
"The Edible Woman makes a good meaty play, rich in metaphor, humour and filled with insight." (Guelph Mercury)

Of the University of Michigan presentation in Ann Arbor, May, 2000:

"Hyperactive and enjoyable" (Ann Arbor News)
"With wit and theatrical flair, Carley has adapted Atwood's vision of a society that has gone mad with consumerism…" (Michigan Jewish News)

Of the CBC Radio Adaptation, first broadcast in 1996:

"A top-notch drama - a robust adaptation." (The Toronto Star)
"A richly funny revival of the Atwood classic… A highly satisfying production… dramatized with great skill by Dave Carley." (The Globe and Mail)

Publishing History

The Edible Woman is published by Scirocco Press. ISBN 1-896239-84-6. $14.95 (Cdn) $10.95 (US).