Midnight Madness
Romantic comedy. 1m/1f/1 offstage voice. Two acts.
Click here to read the script.
It's just minutes before midnight at Bloom's Furniture's going-out-of-business sale. Wesley is closing up for the last time - and then a blast from his past trips up the stairs.

When Anna Bregner arrives at the bed department on Bloom's Furniture second floor, she has no idea that the lonely salesman is a former classmate. But Wesley remembers her all too well - he has kept tabs on all his former classmates. Anna, despite some bumps early on her life's highway, has managed to put herself through law school and has returned with her son to Ashburnham, to set up practice. Her new career coincides with the end of Wesley's - Bloom's Furniture is closing forever.

Anna and Wesley recall the humiliating events that drove them from High School before graduation, and they come to the realization that the burdens of guilt they carry can finally be shed.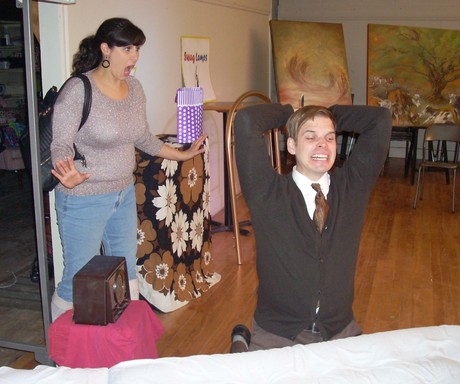 Michelle Langille and Andrew Perun, in the waterbed-killing scene of Midnight Madness. Produced by the Walton Street Arts Project, November 2015, at Flourish, on Walton Street, Port Hope. 
Production History

Midnight Madness premiered in a co-production between the Muskoka Festival, Arbor Theatre and Tarragon Theatre in August, 1988, with the following cast and crew:
Wesley - John Dolan
Anna - Michelle Fisk
Mr. Bloom - Graham Greene

Director - Bill Glassco
Assistant Director - Michael Shamata
Set and Costume Design - Myles Warren
Lighting Design - Andrew Rabbets
Sound Design - Evan B. Turner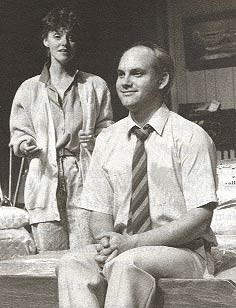 John Dolan and Michelle Fisk, from the Muskoka-Arbor-Tarragon production, 1988. Photo by Michael Cooper.

Selected Reviews

For a recent review by Len Falkenstein from Canadian Literature click here...
"A gentle little comedy - a play that will delight and touch audiences for many years to come." (The Toronto Star)

"Playwright Dave Carley quickly wins you over with a play that is warm, funny and carefully crafted, a play that achieves genuine poignancy without ever feeling overwrought." (Ottawa Citizen)

"…A compassionate, bittersweet look at the loneliness of two persons, loneliness that is largely a spillover from a cruel, ridiculed teenage life. This sensitivity in the writing makes Midnight Madness something special." (Hamilton Spectator)

Publishing History

Midnight Madness was published by Summerhill Press in 1989. ISBN 0-920197-88-4. Price $9.95.
Midnight Madness is available in Dave Carley: Three Plays, published by Scirocco Drama in 2003. The anthology also includes Writing with our Feet and Into. ISBN 0-920486-43-6.