Niels Ebbesen
By Kaj Munk
Translation by Arense Lund, with Dave Carley
Translation and adaptation by Arense Lund and Dave Carley

The two versions available here:

Two versions of Niels Ebbesen are available here. The first is a straight translation of Munk's text; the second an adaptation and translation of the text.

Niels Ebbesen – translation

Niels Ebbesen – translation and adaptation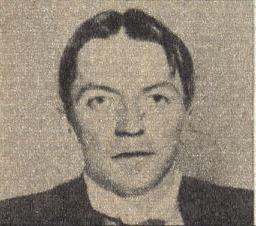 Kaj Munk
Two English-language versions of Kaj Munk's 1942 drama Niels Ebbesen are available from this website. The play celebrates the legendary Danish folk hero, Niels Ebbesen, who liberated Denmark from an occupying German army in 1340. Because of the play Niels Ebbesen's obvious parallels to the situation in Denmark during World War II, it drew much attention, and would become one of the reasons behind the assassination of Kaj Munk by the Gestapo in January, 1944.

Niels Ebbesen was banned by the Danish collaborationist government of Thorvald Stauning in 1942. However, by that time, over 15,000 copies had already been discreetly published by Nyt Nordisk Forlag. Out of this print run, some 3,000 copies were seized by the Nazis but the rest circulated throughout the country. Kaj Munk traveled throughout Denmark performing Niels Ebbesen; he conducted his one-man show so often during 1942 that his wife Lise worried for his health.

Kaj Munk dedicated Niels Ebbesen to "Our Young Soldiers of April Ninth" recognizing the valour of the young Danish soldiers along the border with Germany who attempted to resist the invasion on April 9, 1940.

For enquiries about this play or any other by Kaj Munk in Danish and other languages, contact:

Kaj Munks Forfatterrettigheder Aps, c/o Arense Lund, Bolbrovej 91, Rungsted Kyst, Denmark. E-mail arlu@tv2.dk.

English rights are available through Pam Winter, Gary Goddard Agency Ltd, 10 St. Mary Street #305, Toronto, Ontario M4Y 1P9. (416) 928-0299.
E Mail: pamwintergga@bellnet.ca

Production history

Niels Ebbesen was first performed in Stockholm, Sweden, by the Svenska Dramatikeres Studio, on September 14, 1943. The Danish premiere was at The Royal Theatre in Copenhagen, on September 1, 1945. It was directed by Holger Gabrielsen. Niels Ebbesen was also produced in English for the British Broadcasting Corporation, and was broadcast on the BBC Home Service on Sunday, June 13, 1943. The translator was Rodney Gallop. It was adapted for radio by E.E. Lloyd and produced by Barbara Burnham.

Kaj Munk

Kaj Harald Leininger Munk (January 13, 1898 – January 5, 1944) was a Lutheran pastor known for his cultural engagement and his martyrdom during World War II. From 1924 to his assassination in 1944, Munk was the vicar of Vedersø in Western Jutland, an isolated corner of Denmark. Pastor Munk also wrote plays, conducting a hugely successful career in theatre from his Jutland outpost. Very early in the 1930s, Munk began to see a pattern of Hitler's treatment of the Jews (and Mussolini's war crimes in Ethiopia) and quickly turned into a outspoken and relentless opponent of fascism. His 1938 play Han sidder ved Smeltediglen ('He Sits By The Melting Pot') and 1942's Niels Ebbesen were fierce attacks on both anti-Semitism and Nazism.

Munk also spoke out against the Occupation from his own pulpit and was arrested on the evening of January 4, 1944, when the Gestapo arrived at his isolated manse at around 8:00 p.m. Despite the entreaties and efforts of his family, Munk was whisked away by car at around 8:30 p.m. His killers arrived in the Danish town of Aarhus at 2:00 a.m. on January 5; taking into account the driving time between Horbylunde (where his body was found) and Aarhus, Munk was most likely assassinated sometime slightly before or after midnight, January 4, 1944. January 4 is observed as the date of his death.

Kaj Munk left a widow, Lise (Jorgensen) and five children: Yrsa, Helge, Arne, Solvej and Mogens.

For further information on Kaj Munk, contact the Kaj Munk Forskningscentret at the University of Aalborg. E-mail is kmf@hum.aau.dk
Website: www.kajmunk.hum.aau.dk

Arense Lund (Co-translator)

Arense Lund was born in London, England in 1958. She spent her childhood in England and Denmark, graduating from high school in Denmark in 1976. She was admitted to the University of Copenhagen to study English, but dropped out after one year, as the curriculum at that time focused on grammar and phonetics rather than literature and history. From 1978-79 Lund studied at the The School of Journalism in London and, in 1980, was admitted to the Danish School of Journalism. After receiving her Masters in Journalism in 1984 Lund helped start up one of the first private radio stations in Denmark, Avisradio. After a few months, she left Avisradio to start up the first private television station in the country, Kanal 2. During this period she was also lecturing in Medical Psychology at the Panum Institute, at the University of Copenhagen.

In 1988 Lund started up yet another media company, this time Denmark's first national private television station, TV2 Denmark. She still works at TV2 and has principally been in the News Department, covering politics, the judicial system, cultural events and theology. She has also produced many longer programs on subjects as diverse as the AIDS-infected hemophiliacs in Denmark, the treatment of young criminals, and the Danish activities of North American biker gangs Hell's Angels and Bandidos. In 2004 and 2005, Lund was an editor at TV2 Bornholm, which is one of TV2 Denmark's regional stations. Over the years, she has also worked for Tata, the staff magazine published by The Danish Royal Theatre.

In 1989 Lund and a colleague wrote Spying for Denmark about Danish espionage in Eastern Europe during the Cold War. In 1992 she wrote and produced a documentary for TV2, With the Sword of the Word, about her grandfather Kaj Munk. She later contributed to the 1995 anthology of essays about Munk, Danish Rebel and International Inspirer. Lund also lectures about Kaj Munk and has preached in various Danish churches, as well as in Norway and Sweden.

Arense Lund has been a member of the Board of the Memorial Foundation for Kaj Munk since 1983. In 2006 she was elected chairman of the board of the family company, Kaj Munks Forfatterettigheder Aps, which administers the rights to Munk's plays. She is currently working with Canadian playwright Dave Carley on the translation and adaptation of Munk's 1942 play Niels Ebbesen, and his earlier work Ordet (The Word). Arense Lund lives in a small community north of the Danish capital of Copenhagen.