Opera on the Rocks
Opera on the Rocks – that operatic look at lust and sports set in a pub which had its premiere in January 2008 went on to rock the 2008 Toronto Fringe, with its entire run sold-out. A portion of the opera, Dave's segement entitled "The Sweaters", was remounted at the 2009 Luminato Festival.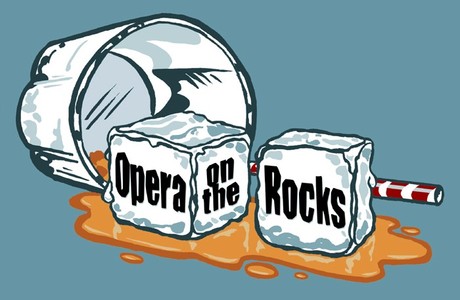 Another brilliant logo by Mile Murtanski.
Opera on the Rocks is a unique collaboration between an all-star team of librettists: Leanna Brodie (Schoolhouse), Lisa Codrington (Cast Iron) and Krista Dalby (We Need Help!), and Dave.

Music is composed and performed by renowned sound artist David Ogborn (Metropolis, Street Songs) using a physically and electronically modified classical guitar, played with a variety of unusual accessories, including a set of kitchen knives.

Opera on the Rocks' various incarnations featured Neema Bickerstaff, Alex Dobson, Carla Huhtanen, Keith Klassen, and Jessica Lloyd. Liza Balkan was director.
Below: Keith Klassen (Centre) in the Fringe production of Opera on the Rocks, at Paupers Pub.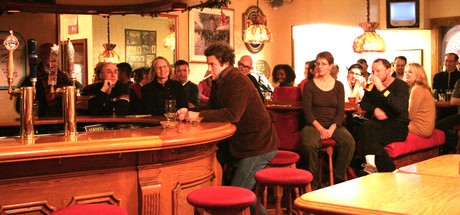 Reviews:
Here's what NOW Magazine said about the first incarnation of Opera on the Rocks in early January.

Opera on the Rocks review – NOW – Thursday, Jan 10/08

High-Cs karaoke

Hockey on the big screen and drunken pickups are part of life at your average sports bar but aren't usually part of an operatic quartet or a tenor-soprano exchange.
But song was the means of communication in Opera On The Rocks, the Ambient Opera Society's two-night workshop held earlier this week at Pauper's.

Clever writing by librettists Leanna Brodie, Dave Carley, Lisa Codrington and Krista Dalby kept the action moving, set to live music by composer David Ogborn that included a guitar played with, among other implements, a set of kitchen knives.

Moving around the bar and interacting with the audience – at opening, writer/performer Marcia Johnson got pulled into the action more than once – the cast got into the rough-and-ready spirit of the show, calling for a line when someone forgot the text.

Tying the show together was tenor Keith Klassen's wannabe karaoke singer, becoming drunker and drunker over the course of the show and offering the evening's biggest laugh. When mezzo Jessica Lloyd blew a whistle at his come-ons, becoming the ref to his offsides hockey player, he stopped the show by complaining, "I can't hear my pitch!"

Rounding out the cast were baritone Alex Dobson and soprano Carla Huhtanen, the latter especially impressive as a rhyming server who kept delivering arpeggios to a customer who didn't want to leave at last call.

Another highlight in the evening's eight brief episodes was the face-to-face confrontation of two people who met through Lava Life. After finding that each has lied online about their appearance, they discover that reeling off a litany of Maple Leafs team members makes for a torrid seduction.

If you didn't get to the show, you'll probably have a chance during next summer's Fringe. The company hopes to remount Opera On The Rocks as a BYOV, again at Pauper's.

It's a great way to bring the beer tent into the theatre proper.