Orchidelirium
Drama. 2m/2f. 2 acts.
Download full text of Orchidelirium in Word

There is only one flower that can cause a fever in the brains of humans; a desire to possess, to create and to control so strong that it has been declared a medical condition. That flower is the Orchid and the lovesickness it creates is known as 'orchidelirium'. The mania for collecting and hybridizing the orchid (there are over hundreds of thousands of varieties and hybrids) began in earnest with the Victorians, and continues unabated. (A fascinating article by a noted British etymologist on the true origins of the word 'orchidelirium' makes a surprising discovery about what was believed to have been a Victorian term. Check out  Michael Quinion's article in World Wide Words here.)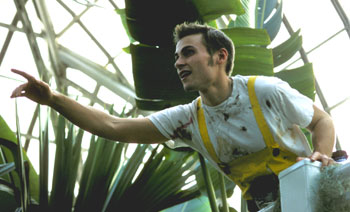 Nick Lingnofsky as Mike, in Women at Play production of Orchidelirium, Columbus Ohio, 2005. Photo by Kaizaad Kotwal.

 Dave Carley's new play Orchidelirium takes that condition as a starting point. Frances O'Keefe is an ethnobotanist attached to a university in Pittsburgh. She has discovered the Victorian journals of an English orchid collector, Sir Robert Paxton, which tell of a magical orchid. Believing that the orchid may hold a cure for cancer, O'Keefe hires a young man in South America to locate this precious flower, and bring it back to North America, where she can begin work cloning it and testing its curative properties.

O'Keefe is motivated. Her conservatory-laboratory is poorly funded and must periodically tart itself up for cheesy festivals - Victorian Christmases and Egg Hunts at Easter - in order to keep financially afloat. O'Keefe herself has fallen on hard times and remains in the conservatory mostly on the sufferance of the university. And the university is under pressure from a large pharmaceutical donor to evict her. (Ethnobotany is not currently in vogue - chemical solutions to health situations predominate.)
O'Keefe has a personal agenda. A hundred years ago, her ancestor Alice O'Keefe, one of Pittsburgh's great industrial heiresses, established the American Acclimatization Society. Its purpose was to bring to America all the birds mentioned in Shakespeare's writings. An employee of Sir Robert Paxton, Arthur Fox, imports the birds to Pittsburgh at Alice's behest. Two attempts at introducing species fail - it is only the common starling that takes to the New World. Within a few years of its introduction it has spread across North America, forcing out dozens of indigenous species. And as it spreads, so too does Alice O'Keefe's shame.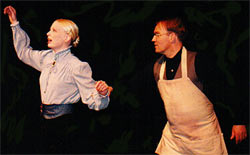 Lorijean Nichols (Alice) and Malcolm Tulip (Arthur) in the University of Michigan's Festival of New Works presentation of Orchidelirium, May 2002. Photo by Mary Lou Chilpala.


A century later, her great grandniece Frances is bringing a new orchid to North America and, with it, she hopes to restore her family's reputation, and re-establish ethnobotany at the cutting edge of the pharmaceutical industry.
Orchidelirium is a hothouse hybrid of fact and fiction, research and hypothesis, scent and sex. The name of the flower itself is derived from the Greek word 'orchis', meaning testis.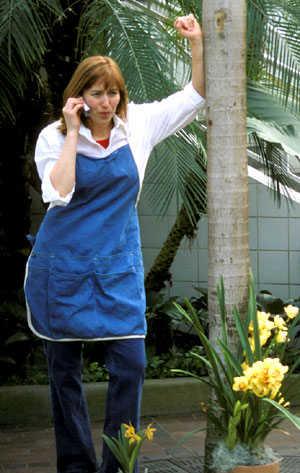 Emily Bach (www.emilybach.net) as Frances, in the 2005 Women at Play production of Orchidelirium in Columbus, Ohio, directed by Katherine Burkman. The production was staged environmentally at the internationally-renowed Franklin Park Conservatory. Photo by Kaizaad Kotwal.

Through their resemblance to human and animal sexual organs, orchids were thought to stimulate lust. In fact, it was long believed that the flowers sprang from the spilled semen of mating animals.
For the Victorian Alice O'Keefe, who established one of America's great collections of orchids (before venturing into flora introduction) the delirium leads to environmental disaster. For Frances O'Keefe, the hothouse her ancestry built and which she fiercely protects, will once again fill with the flower of legend - and orchidelirium.

Orchidelirium is two acts in length and has a cast of four (2f/2m). The setting is the Orchid House at the O'Keefe Conservatory. The time is 1895 and the present.

Orchidelirium was the featured presentation at the Festival of New Works, University of Michigan in Ann Arbor, in May 2002.

The cast and crew were as follows:

Frances - Pamela Lewis
Alice - Lorijean Nichols
Arthur - Malcolm Tulip
Mike - Joe Hendrix

Director - Sue Miner
Lighting Design - Mark Berg
Master Electrician - Anup Aurora
Stage Manager - Callie McKee
ASM - Katie Conrad
Sound Design - Clark Johnson

John Neville-Andrews - Artistic Producer
Mary Lou Chlipala - Managing Director

Orchidelirium premiered at the Factory Studio Theatre on February 21, 2003. The Theatre Voce/Pea Green production included the following cast and crew:
Patrick Galligan in Orchidelirium

Patrick Galligan (Arthur) in the Toronto, 2003 production of Orchidelirium. Photo courtesy of Joey Morin (joeymorin@alumni.uwaterloo.ca)

Arthur - Patrick Galligan
Mike - Joel Hechter
Frances - Tanja Jacobs
Alice - Anne Page
Directed by Sue Miner
Producer - Mark Brownell
Set Design - Brenda Guldenstein
Lighting Design - Michael Kruse
Costume Design - Nina Okens
Sound Design - Darren Copeland
Design Assistant - Junko Yamaguchi
Stage manager - Trina Sookhai
Production manager - Rick Banville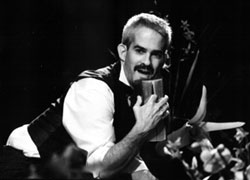 Patrick Galligan (Arthur) in the Toronto 2003 production of Orchidelirium. Photo courtesy of Joey Morin. (joeymorin@alumni.uwaterloo.ca)
Selected Reviews:

"Dave Carley has never been one to shy away from unusual subject matter. His new play Orchidelirium plunges us into the hothouse world of the orchid-obsessed… It is a rich and satisfying evening of whimsy."
(Toronto Star)

"Carley interweaves his disparate tales and times into an impressive whole cloth."
(Toronto Sun)

"Orchidelirium illuminates the almost-mystical power of orchids, the fascination that can take over someone's life and psyche to be so obsessed with these flowers…" (Columbus Dispatch)

"The performances bloom under the co-direction of Katherine Burkman and Jane Cottrell. That Carley is able to cultivate this story into a critique of capitalistic chemistry, its usurpation of botanical medicines and the corporatization of academia adds to the delirium" (Columbus North Shore News)

"Carley's engaging play spins a tall and tantalizing tale about (the power of orchids) and scores some interesting points about a broad range of subjects in the process…he comments smartly on topics ranging from the current state of academic research in America to the perception of Mormon missionaries by airport security personnel to the philosophical dilemmas underpinning hybridization and cloning." (nytheatre.com)