Taking Liberties
Drama. 2f/3m. 75 minutes.
Read the full text of Taking Liberties
Our civil liberties are under constant attack - but this is nothing new. The challenges we face today all have their roots in the struggles of yesterday.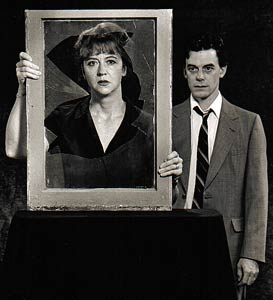 Dixie Seatle (Anne Harvie) and Tom McCamus (Gerald Harvie) from the 1992 production at Factory Theatre. Nir Bareket, photographer.


"In these fractious times, Dave Carley's play Taking Liberties is more important than ever... Taking Liberties, with its focus on civil liberties, freedom of speech, responsible journalism - no matter how unpopular the opinion - makes it as timely today as it was 30 years ago when the play was first performed... Dave Carley's bracing, challenging play is more vital and important than ever before. Alas." (Lynn Slotkin, the Slotkin Letter)
Taking Liberties examines five critical moments in the life of a city, when ordinary citizens are forced to make extraordinary choices. The play moves back through five decades, showing how the moral dilemmas of one era can impact on the events of another.

The play consists of five monologues: a professor under attack for her stand on affirmative action; a young Jewish lawyer who is shunned by his family for defending a holocaust denier; a high school student who demands that a controversial novel remain on her school's curriculum; and a newspaper editor who must decide how much free speech his paper will allow. Finally there is the story of the man who ties their lives together - a homosexual accountant who sets out on an agonized stroll through the city all five love.

Intellectual sustenance for Taking Liberties was derived from the writings of Dr. A. Alan Borovoy, general counsel of the Canadian Civil Liberties Association, and in particular from his excellent text When Freedoms Collide.
Production History
Taking Liberties was first produced at the Alumnae Theatre New Ideas Festival as a staged reading, in a co-production with CBC Radio Drama. The original cast was as follows:

Anne Harvie - Tanja Jacobs
Ron Bloom - Albert Schultz
Sara Munro - Stephanie Morgenstern
Heck Munro - Chris Wiggins
Gerald Harvie - Edward Roy

Director - Stephen Ouimette
Producer - Heather Brown
Taking Liberties premiered at the 1992 Vancouver Fringe Festival. The cast and crew was as follows:

Anne Harvie - Gillian Barber
Ron Bloom - Joe-Norman Shaw
Sara Munro - Celine Richmond
Heck Munro - Bernard Cuffling
Gerald Harvie - Andrew Wheeler

Directed by Jan Carley
Design - Craig Fulker
Stage Manager - David Lyford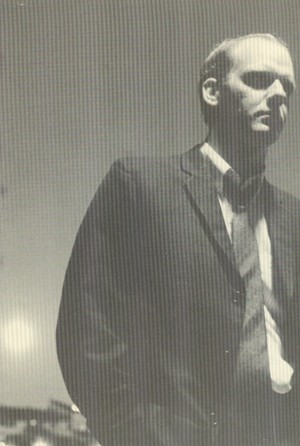 Andrew Wheeler in the Vancouver production of Taking Liberties. Photo by Steven Blackwell.
Selected Reviews

"Beautifully written. Taking Liberties creates identifiable human figures who face agonisingly real problems. It's rare for theatre audiences to be so intellectually and emotionally challenged." (Plays International)

"The play is thoughtful and as topical as today's headlines… It is enriched with complications that are the stuff of human drama. They support (Carley's) points on the danger in prevailing orthodoxies, whose "correctness" is as mutable as a virus." (Vancouver Sun)

"Touches upon the principal quandary of our age - rights and responsibilities are ultimately about one person's control over others - and makes it both abstract and terrifyingly immediate. It pounds on the doors of both the mind and the heart." (Theatrum)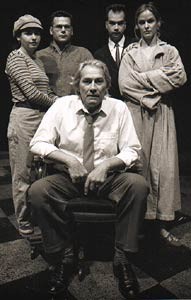 The cast of the 1995 production at Summerworks, Toronto. (Lef to right:) Esther Arbeid (Sara Munro); Jeffrey R. Smith (Ron Bloom); David Fox (seated, Heck Munro); Jim Jones (Gerald Harvie); and Fiona Highet (Anne Harvie). Photograph by Andrew Waller. David Fox would return to play Heck Munro in the 2010 production at the Toronto Fringe.
Publishing History

Taking Liberties was published in a collection with Into by Playwrights Canada Press in 1993. ISBN 0-88754-512-2. Price: $10.95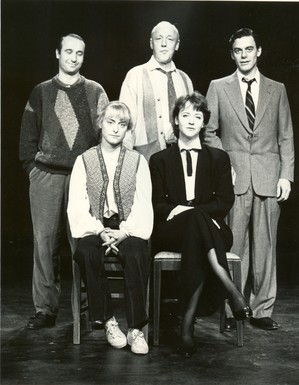 The cast of the Factory Theatre production of Taking Liberties. Standing L to R: Michael Caruana, Gary Reineke and Tom McCamus. Sitting L to R: Stephanie Morgenstern and Dixie Seatle. Stephen Ouimette directed.