Two Ships Passing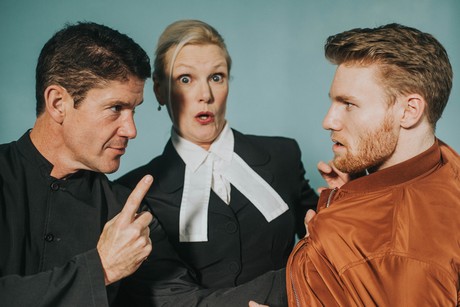 The cast of the Ontario Street Theatre production of Two Ships Passing, Engine Gallery Port Hope 2016. From left to right: Drew Carnwath, Anne Page and Scott Kuipers. Photo by Sam Gaetz.
Romantic/Political comedy. 2m/1f. 2 acts.
A liberal judge and a progressive cleric should see eye to eye on issues like health care for the terminally ill - except when the judge's right-wing son intervenes.

Two Ships Passing is the sequel - ten years later - to Dave Carley's popular romantic comedy Midnight Madness. In the decade since their original encounter, Anna Bregner and Wesley Marshall's lives have changed considerably. Anna has recently been appointed to the Bench and Wesley has become a minister. Anna's son Jason, who was thirteen in Midnight Madness, has now graduated from university, a business major. The trio's political views have diverged over the years and are brought into sharp relief when the crisis in health care hits the courts.

One of Wesley's beloved parishioners will die if she does not receive an expensive operation. The government, in an effort to control health care costs, has de-listed certain medical procedures. The wealthy can always jump queues and buy treatment, but Wesley's friend will be wiped out financially. He is seeking an injunction to force the government to treat the woman - and Anna is inclined to agree. And then Jason shows up…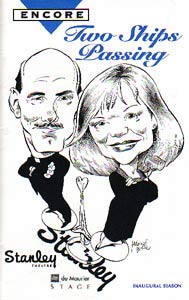 The program artwork for the Arts Club production at the Stanley Theatre, in Vancouver, 1999. Pictured here: Jackson Davies (Wesley) and Gillian Barber (Anna). Peter Grier played Jason in the Arts Club production. Art work by McKenna.

Production History and Original Cast

Two Ships Passing premiered at Theatre Aquarius, Hamilton, in February, 1998. The cast and production crew were as follows:

Anna Bregner - Gina Wilkinson
Wesley Marshall - Ric Reid
Jason Bregner - Jason Jazrawy

Director - Christopher McHarge
Set and Costume Designer - Dennis Horn
Lighting Designer - Mark Schollenberg
Sound Designer - Michael Stewart
Stage Manager - Barbara Wright
Production Director - Stephen Newman

Selected Reviews

"Bright, engaging, fun…this romantic, warm sequel has a promising debut." (Hamilton Spectator)

"It effectively frames the ongoing debate between left and right over just how far governments should go in meeting the health needs of its citizens. In raising this issue, Carley has also created an intensely funny evening of entertainment." (Guelph Mercury)

Publishing History

Two Ships Passing was published in 1999 by Simon and Pierre. ISBN 0-88924-282-8. Price $15.95.