A View from the Roof
Based on the stories of Helen Weinzweig

Drama. 3f/2m doubling. 2 acts.
Download full text of A View From The Roof in Word
A young woman and her lover are fleeing across Europe in 1939. Their story ripples back and forth across time and continents…
Mulgrave is a wealthy Canadian businessman who has built himself a vast empire. All that remains is for him to construct a suitable biography, one befitting such a successful industrialist. He hires a couple of actors and constructs a plausible period-style home for them - and then commands his new employees to begin improvising the story of his life. He offers the actors guidelines and tips, but soon he finds that, despite his instructions, they are leading him to a very different biography than that which he had intended - one that happens to be true.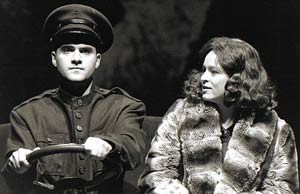 Cody Nickell and Anne Bates in the Barrington Stage production of
A View From The Roof, Massachusetts 1999. Photo by Richard Feldman.
Gradually three other stories begin to link - that of a young girl and her hairdresser mother living in poverty in Toronto in the early 1930s; a bored housewife on vacation in Puerto Rico in the 1970s, who takes up with a local artist-gigolo; and finally, the moving story of a young couple who fall in love as they dash for what they hope will be the safety of Venice in 1939.
A View From The Roof links four stories by Helen Weinzweig, uniting her obsessions and themes in a dazzling jigsaw, in which the final piece is not tapped into place until the curtain is falling…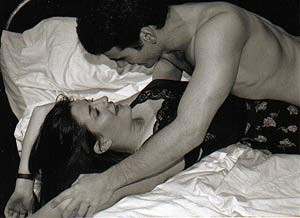 Michael Messer and Ali Hayden, in the Carnegie-Mellon Showcase of Plays production of
A View From The Roof, Pittsburgh 1996. Photo by Mary Lou Chlipala.
---
Read the text of My Mothers Luck,  the monologue that ends Act I.
---
Helen Weinzweig

Helen Weinzweig was born in Poland in 1915, came to Toronto at age nine, and has lived in that city ever since. Her formal education was brief, as she had to leave school at seventeen, because of the Depression. The rest of her education has come from reading.

Helen began writing at the age of 45. She has written two novels, Passing Ceremony and Basic Black with Pearls, both published by the House of Anansi. A collection of short stories, A View from The Roof has been published by Goose Lane Editions, and was a Finalist for the Governor General's award.

Some "perks" along the way were awards and prizes, and short stories adapted for stage and radio. As Writer in Residence at the University of New Brunswick (Fredericton) in 1988, Helen Weinzweig lived for almost a year in a student dormitory, "to resolve an unfulfilled ambition to go to college."

Helen Weinzweig died in Toronto in 2010.
The Helen Weinzweig Endowment Fund.
Helen credits the Toronto public library with saving her life, giving her the courage as a child to face a new city and the determination to become a writer, a mother and a lifelong library supporter. Before her death, Helen and her family established the Helen Weinzweig Endowment Fund to support youth programming and collections at Torontp Public Library.  To make a donation to the Helen Weinzweig Endowment Fund, go to tplfoundation.ca
Tribute to Helen that appeared in CanPlay and other writer publications.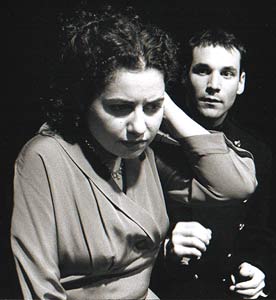 Esther Arbeid and Alex Poch-Goldin in the 1996 production
at the Tarragon Theatre Extra Space. Photo by Andrew Waller.
Production History and Original Cast

Portions of A View From The Roof were produced by CBC Radio Performance (Sandra Rabinovitch - Director) in 1992 for broadcast on Morningside. Portions were also presented at the 1995 Summer Works Festival at the Tarragon Theatre, featuring Esther Arbeid, D. Garnet Harding, John Jarvis, Maria Vacratsis and Gina Wilkinson. Michael Waller directed.
The full length version of A View From the Roof premiered at the Tarragon Theatre in June, 1996, in a Theatre Cognito production, with the following cast and crew:

Helga/Hannah/Daughter - Esther Arbeid
Mother - Kyra Harper
Mulgrave/Bernie - John Jarvis
Henry/Daniel/Mauricio - Alex Poch-Goldin
Miss Perry/Betty - Gina Wilkinson

Directed by Michael Waller
Assistant Director - Chad Dembski
Production Design - Laurie-Shawn Borzovoy

Lighting Design - Bob Stamp
Sound - Steve GordonMarsh
Costumes - Jocelyn Hublau
Assistant Designers: Karla Faulconbridge and Mario Moreira
Stage Manager - Janet Gregor

Selected Reviews

"A fascinating theatre mosaic… Carley is deservedly one of Canada's most frequently-produced playwrights, in no small part because he's an excellent storyteller." (Plays International)

"Full of piercing insights and quirky wit… beautifully written, a mesmerizing story." (Variety)

"Sparkling gems of character and story." (The Globe and Mail)

"Memories may mislead, but the past is inescapable. That's the message of Dave Carley's fascinating A View From The Roof, a compelling collection of character studies that circle around each other until they intersect in a devastating climax." (Boston Herald)

Publishing History

A View From The Roof was published by Playwrights Canada Press in 1997. ISBN 0-88754-525-4. $12.95.

The short story collection, A View From The Roof, by Helen Weinzweig, was published by Goose Lane Editions in 1989. ISBN 0-86492-110-1.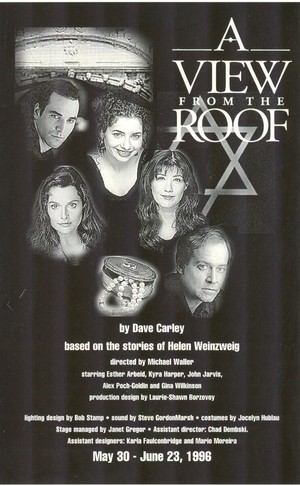 The artwork for the 1996 production of 'A View' at the Tarragon Extra Space.