Walking on Water
Drama. 9m/4f. 2 acts.
Download the full text of Walking on Water in Word.
Who murdered Lee Kwan? The question haunts a city for fifty years, in this moving drama inspired by Thornton Wilder's Our Town.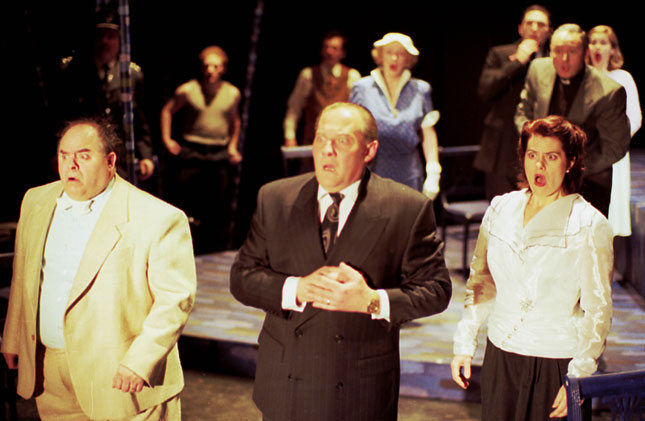 The cast of the Prairie Theatre Exchange production of Walking on Water.
Foreground left to right: Stan Lesk, Tom Anniko and Martine Friesen.
Photo by Bruce Monk.

Ashburnham is a green and pleasant city, a Canadian 'Our Town'. But one morning in 1949, Lee Kwan, chauffeur for the town's newspaper publisher, is found dead under his employer's Packard. It is quickly apparent that Lee did not die of natural causes - but who murdered him, and why? All of Walking on Water's wonderfully complex characters have secrets to hide and stories to tell and, over the course of two acts and fifty years, a fascinating portrait of a Canadian city in transition emerges. But it is only when the thirteen citizens of this magical city are finally gathered at the Ashburnham Necropolis that Lee's murder is solved, in an immensely satisfying conclusion to a grand and moving drama.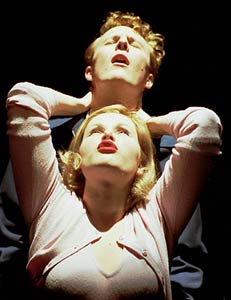 Jason Neufeld and Anne Ross, from the Prairie Theatre Exchange production of Walking on Water. Photo by Bruce Monk.
Production History and Original Cast

Walking on Water was commissioned by Winnipeg's Prairie Theatre Exchange and The Grand Theatre (London), and was developed with assistance from CanStage. It premiered at Prairie Theatre Exchange, on March 30, 2000, with the following cast:
Heck Munro - Tom Anniko
Betty Warner - Sharon Bajer
Chalmers Wilkie - Brian Drader
Max Bloom - Darcy Fehr
Sadie Munro - Martine Friesen
Lee Kwan - Oscar Hsu
Jean Findlay Copeland - Patricia Hunter
Archie Copeland - Stan Lesk
Terry Andrews - Carson Nattrass
Chief Percy Bromell - Harry Nelken
Neil Griffin - Jason Neufeld
Christine MacCosham - Anne Ross
Reverend Land - David Warburton

Director - Allen MacInnes
Set and Costume Design - Craig Sandells
Lighting Design - Scott Henderson
Sound Composer - Greg Lowe
Voice Coach - Sheila Langston
Movement Coach - Bryan Doubt
Stage Manager - Maureen Shelley
Assistant Stage Manager - Marlene Meaden
PTE General Manager - Cherry Karpyshin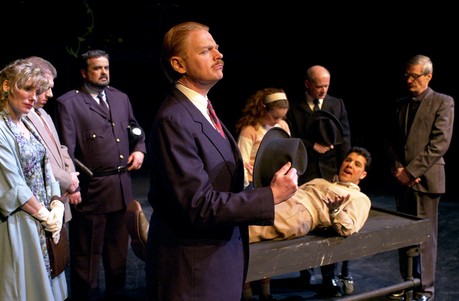 Group scene from the Great Canadian Theatre Company production of Walking on Water. Photo by Paul Toogood.
Publishing History

Walking on Water was published in 2001 by Signature Editions. ISBN 0-921833-72-5. $12.95
The book's cover art is by JoEllen Brydon. The scene is an imagining of the main street of Peterborough, Ontario in the 1950s. (Walking on Water is set in Ashburnham, a.k.a. Peterborough, and the 'Water' of the title actually refers to a main street in that city.)

JoEllen Brydon's vibrant paintings recapture lost histories. She draws her material from anecdotes and incidents that are passed along from storyteller to teller, both in Ireland where her family originated, and in her native Canada.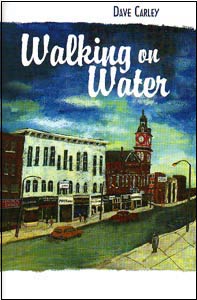 Walking on Water, published by Signature Editions. Cover art by JoEllen Brylon.