Scenes From Trevi Fountain

Background:
I have known artist Herb Jung for nearly 25 years. For most of that time, it never occurred to us that we could collaborate on anything. I write plays and he heaves paint on canvas. But then he created a monumental painting that depicted the cultural chaos of Trevi Fountain - and we decided we might have some common ground. I set out to write little dramas featuring the people at Herb's fountain. We were curious to see if we could create a whole new dimension for Herb's impressive painting - and I think we managed to succeed...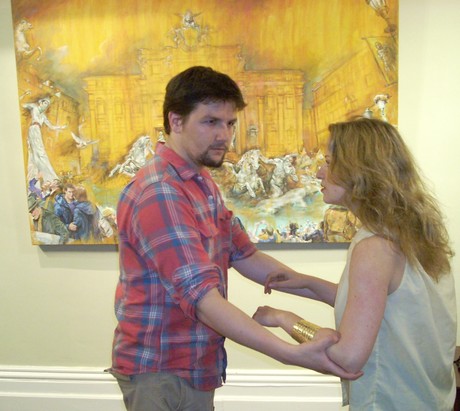 Alex Dault and Karen Knox, in 'Scenes from Trevi Fountain'. The warring couple they are portraying is in the bottom left corner of the painting.
Synopsis:
A busload of American tourists has arrived at Trevi Fountain. As they gather in front of this famous tourist site - one of many on their crowded tour - they are all affected by the rococo majesty of the fountain and sculptures. Relationships end, relationships start, an artist despairs, their tour guide craves a stiff martini - and even Salvi's famous sculptures of Oceanus, Salubrity and Abundance squabble.
Cast:
2m/2f
Set:
The painting by Herb Jung
Running time:
30 minutes
Production history:
Scenes from Trevi Fountain was first produced in Cobourg, Ontario in November, 2010. Cast was Michael Connolly and Jenny Ryan. It was next produced at the Wesleyville Arts Centre in September 2011; Karen Knox and Alex Dault were added to the cast. In May, 2012, Scenes From Trevi Fountain was produced at the Women's Art Institute in Toronto, with all four in the cast. Joni Overton-Jung was producer.