Good Things Come
NEWS UPDATE: MAY 2015: THE AUDIO VERSION OF 'GOOD THINGS COME' HAS BEEN CHOSEN AS ONE OF FIVE AUDIO DRAMAS TO BE FEATURED IN LISTENING SESSIONS AT THE INTERNATIONAL 'HEAR NOW' FESTIVAL IN KANSAS CITY, MISSOURI IN JUNE 2015.
Michael Bergonzi in Audio Drama Reviews writes: "...Right on the mark. It knows what it wants to be and does it well. The story is unusual in that it sits smack dab in the middle of audio drama and full-cast productions. It sits there perfectly using both functionalities of the different forms... overall this feels like a standard audio drama short with the stylistic tone of a Beverly Cleary novel - but with the complexity of a story for adults. 4/5 Stars"
To order:
Voices in the Wind Audio Theatre is Canada's leading distributer of audio drama. Good Things Come was in the studio in November and will be available in Spring, 2015. Some of the distributers are:
Audible United States (also available through Audible in the UK, Germany and Australia)
Amazon United States (also available through Amazon in the UK and Germany)
From the dedication:
The inspiration for this came from my mother. She spent a great deal of the 1930s worrying about who exactly might crawl through her bedroom window and carry her off. Like Charles Lindbergh, her father believed in the healthful effects of night air, and required her window to be open - wide enough for an illegal German to slip through and snatch her. Luckily for my mother there was to be no Bruno Hauptmann in her life.
For Mig. You can raise the window now.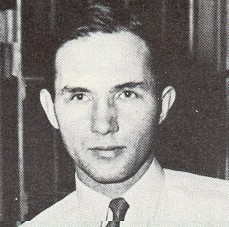 Bruno Hauptman
Synopsis:
A young girl waits for her gentleman caller. She waits and waits, until she finally realizes she has to take matters into her own hands...
Cast:
ELLEN: one actress, playing ages 11 through 86
MAN or MEN: DAD (35 - 55), KURT (18), BRIAN (40), VINCENT (30), FIREMAN (86)
The men can be played by separate actors but my preference is for one 1936 to 2011
Time:
1936 to 2011
Location and Set:
ELLEN's bedroom, somewhere near Hopewell, New Jersey. A bed and a window.
Production History:
A segment of Good Things Come was read by Women at Play, Columbus, Ohio, as part of 'Dave Carley's Shorts', May 2012. The actors were David Fawcett and Michelle Schroeder. Katherine Burkman directed. A radio version of Good Things Come was produced by Moonlight Audio Theatre in November 2014 and is available for sale.