Incident on Crescent Road
Thomas Lamb Steamer Chair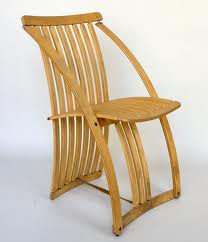 I have a friend named David who is normalish in every way but one. At night he trolls the tony streets of Toronto's Rosedale neighbourhood, finding treasure on every curb. Many of the items mentioned in Incident on Crescent Road were indeed found this way, and now grace David's home. The Noguchi lamp in particular was a great find; there are a couple of rumples in it, but that's part of its charm. I would dedicate this play to David but he's too busy with his nocturnal missions to take notice.
Incident on Crescent Road text
The three versions:
There are three endings to Incident on Crescent Road. I couldn't decide which I liked best and, because life can be so whimsical with its own endings, I've included all three scripts here. The endings are Happy, Altruistic and Tragic.

Synopsis for all Three:
An expensive chair lies discarded on a curb. Two men passing by see it at the same time and a frantic tug of war ensues – until stuff happens that neither expected.

Characters:
MARC is a successful architect, 40.
ROB is a collector, age 30.

Time:
Now.
Set:
The stage should be empty except for a chair lying on its side. It's a Thomas Lamb in the play, but any 1950-60s designer chair will do.
Play History:
Incident on Crescent Road premiered at Buffalo United Artists in June 2012. It was directed by Laura LaVelley and starred Marc Sacco (Marc) and Jonathan Shuey (Rob).
Jonathan Shuey (L) and Marc Sacco, in the Buffalo United Artists production, June 2012.