The Boy on the Wall
"I wish I could know if it was fast, the end. They say every dying boy, man, soldier, calls for his mother, but I know that is ridiculous and sentimental. I actually hope he thought of his trumpet. It would break my heart even more if he was thinking of me when he was hit because - I'd feel like an accomplice."
The Boy on the Wall is also available in a One Act Play Depot collection of short plays Mothers and Daughters.
Synopsis:
The mother of a young soldier killed in the war is unveiling a plaque in her church, honouring the war dead. She has rehearsed her speech, but finds herself unable to stick to her prepared text.

Play history:
The Boy on the Wall was first presented in a staged reading by Women at Play, in Columbus Ohio, in May 2010. Ellen Nickles played MOTHER and Nick Lingnofski was WILL. Katherine Burkman directed.

In June 2011, The Boy in the Wall was named a Finalist in the Bloomington Playwrights Project AwareFest Competition, coming 5th out of 1000 entries.

Characters:
Mother – 45 max
Will – 19

Time:
Right after a war, any war.

Setting:
A church interior. Mother is well-dressed. There is a silver cross on her lapel. She is standing in front of a drawn curtain. When "unveiled" the plaque is not seen; WILL is standing in front of it.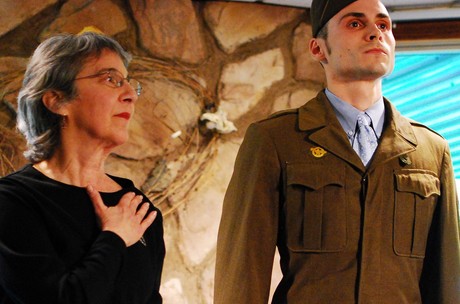 Ellen Nickles and Nick Lingnofski, Boy on the Wall, Columbus Ohio, 2010.