Hedges
Young Audiences. 6 actors. One act.
Perfect houses, perfect neighbours, all living in harmony, divided only by a lovely green hedge... And then the troubles begin.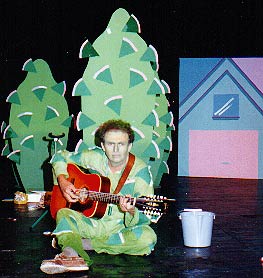 Tim Rowat (Hedge) in the Peterborough Theatre Guild production.
The Eskers and the Drumlins are ultra-compatible neighbours and their lovely suburban homes are separated by a small - but acerbic - Hedge. The Eskers and Drumlins socialize with each other and all is harmony on their street - until the issue of the Esker's errant dog arises.
The Drumlins are not dog-friendly and, egged on by their local hardware dealer, Widget, they begin a series of defensive maneuvers designed to keep the Esker canine on the Esker side of Hedge. But the Eskers are offended and they turn up at Widget's store also, requesting pro-dog armaments. Throughout, Hedge tries to remain neutral - but inevitably he too is drawn into the war.

Hedges is a modern day parable about the arms race, and illustrates how the incredible profits involved in the military armaments industry actually encourages conflict. The play is designed for the junior high level, and for performance by students.
Hedges was written in 1985. The script has been updated over the years and, included in the text are periodic updates on Canada's ongoing involvement in arms dealing. Nothing has changed. In fact, our national role has deepened, according to an article in the May 20, 2015 The Globe and Mail, written by Steven Chase. He was focusing on a huge arms sale to human rights violator Saudi Arabia but also drew a wider picture. From Chase's article:
'Critics say a $15 billion arms deal the Canadian government has brokered to sell fighting vehicles to Saudi Arabia, a country notorious for human-rights abuses, undermines Ottawa's rationale for refusing to sign a landmark global treaty to regulate the weapons trade.
Canada is along among peers in refusing to sign the Arms Trade Treaty, which came into force a few months ago. It's the only member state of the NATO military alliance and the Group of Seven wealthy industrialized nations that hasn't signed the agreement. At last count, 130 countries had inked the deal'.
JUST NOT CANADA!
2016: Steven Chase continues to write in The Globe and Mail on the issue of Canada's arms exporting trade. In a June 14 article, Chase revealed that Canada is now the second biggest dealer of arms to the Middle East. We are sixth overall in all nations in arms exporting. 
It's not a record to be proud of, and things are getting worse. The Globe and Steven Chase are to be commended for bringing these statistics forward, and to hold the Trudeau government's feet to the fire.
HEDGES Production Details
Hedges was commissioned in 1985 by the late Marion Gilsenan, for production with a group of young actors in Merrickville and Smiths Falls, Ontario. At Ms Gilsenan's behest, the play was specifically written to encourage enthusiastic performance by high school and junior-high school-age children. The play's professional debut was an Ontario tour in 1995 by Carousel Players, and the cast and crew included:

Hedge - Adrian Churchil
Drumlin - Jennifer Moor
Widget - Denis Nadon
Esker - Sanjay Talwar

Director - Josephine LeGrice
Designer - Lori Hickling
Props - Michael Guard
Sound - Jim Crocini
Stage Manager - Shari Beck

Publishing History

Hedges is published in an anthology of plays for young audiences, Six Canadian Plays. ISBN 0-88754-469-X. $16.95

A four character version is also available from the Playwrights Union, in copyscript format. ISBN 1-55173-061-8. $7.00

The six character version is also available from the Playwrights Union in copyscript format. ISBN 1-55290-170-X-2001. Price $7.00.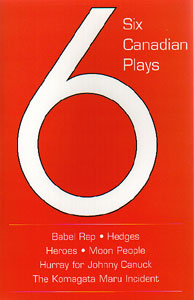 The Playwrights Canada anthology, "Six Canadian Plays", which includes Hedges.
And allow me this rant:
Selling Arms to the Saudis
Amnesty International is raising concern about Canadian arms sales to Saudi Arabia. At issue is the recent $15 billion deal between London, Ontario-based General Dynamics and the Saudis for hundreds of armoured vehicles over the next decade.
Human Rights violations are rampant in Saudi Arabia and Canada is supposed to carry out an assessment to ensure that there is no risk that the arms being sold will be used against civilian population. There has been no indication forthcoming from the Canadian government that such an assessment has taken place. Even more troubling are recent reports that if there is an assessment it will not be made public.
Among the proven human rights violation in Saudi Arabia are torture, sexual discrimination, abuse of foreign workers, extensive use of the death penalty and discrimination against the country's Shi'a minority.
For more information on Amnesty International's open letter to Rob Nicholson, Minister of Foreign Affairs, click here.
I am very proud of this stand by Amnesty, which is not going to win the organization any brownie points with most Canadians. Our involvement in the arms trade runs sickeningly deep. In 1985 I wrote a play, , for teenage audiences about our Canada's role in selling weapons of death, drawing on information from Amnesty and Project Ploughshares. It is shameful that the play remains relevant thirty years later.