Al Purdy at the Quinte Hotel
Featuring the Poetry of Al Purdy
Drama – 1m – 2 acts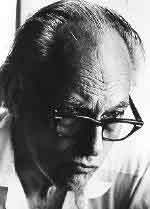 Al Purdy
Al Purdy was one of the greats of Canadian literature. His poems bridge the gap between academia and the factory lunchroom, and they span the country as well. In this celebration of his work, Purdy takes his audience on a tour of the land he loves, and the passionate characters who people it. All this from Purdy's vantage point at a table at the rear of the Quinte Hotel!

Al Purdy at the Quinte Hotel premiered on CBC Radio in February, 2004.
NEWS! There are two performances to benefit the mandate of the Al Purdy A-Frame Assocation - Sept 28 in Ameliasburgh.
MORE NEWS!! You can help preserve Al Purdy's A Frame in Prince Edward County by donating to the Al Purdy A-Frame Association. The link to the site and Al's publisher, Harbour Publishing is here.