Backbencher
One Woman's Journey through the Snake Pit of Canadian Politics
A Radio Drama Series by Wendy Lill
Series Editor: Dave Carley
Bronze Medal Winner - New York International Radio Festival - Best Drama

Seasons 1 and 2 of Backbencher are available on iTunes. Click here for episode information and to order.
To read a sample script in Word (Episode 19 - Triumph and Tears) click here.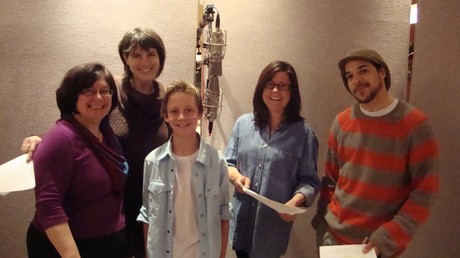 Some of the cast and crew of Backbencher. From Left to Right: Producer and director Peggy Hemsworth, Genevieve Steele (Tina), Jacob Robertson (Ben), Joanne Miller (Nellie) and Cory Bowles (Sean).
So who are the backbenchers?

Hundreds of elected representatives from different parties arrive in Ottawa after every election, sit up at the back near the gold curtains and provide the cannon fodder for democracy. Away from home, they are subject to great temptations, kept in check by fear, insecurity, half-cocked ideals and the lure of power. They spend up to two days a week in the air, moving regularly from the rarified ceremonious environment of the House of Commons to the hardscrabble reality of their riding offices. One-third of them are gone in four years at the whim of the voters. No pension. No fanfare. They work too hard, drink too much, gain weight, go into debt, screw around and wreck marriages. They struggle with stress, travel, loneliness, the complexities and the endless contradictions.

Judy LaMarsh once said, if you don't know what you believe before you arrive in Ottawa, heaven help you.

In Backbencher we follow the story of Nellie Gordon, a paramedic from East Nova in Nova Scotia who decides to run for MP on a whim and, much to everyone's surprise, gets elected. We go into caucus meetings, the hallways of Parliament and the House of Commons itself and experience it all from Nellie's perspective each and every episode.

Life as an MP is a physical, mental and ethical workout -- every day. And that's what this series is about, a view from the backbenches of the House of Commons; one woman's journey through the snake pit of Canadian politics.

Backbencher is written by Wendy Lill, the award winning Canadian playwright and two-term MP from Dartmouth, Nova Scotia. Script Editor for the series is Dave Carley (who also contributed some episodes, including Episode 19, linked above.)  The show is produced in CBC Halifax by Recording Engineer Pat Martin, Associate Producer Maggie Rahr and the Producer is Peggy Hemsworth.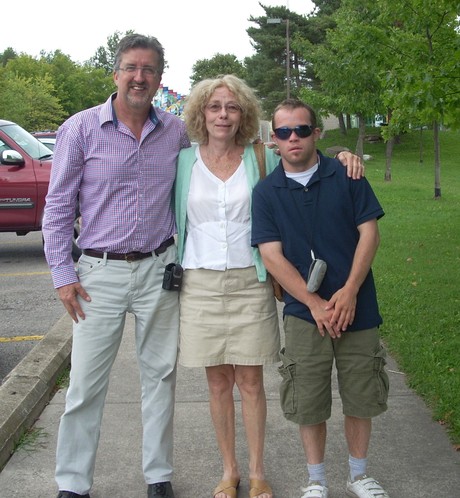 Dave with Backbencher's creator Wendy Lill and her son Sam Starr. Photo by Richard Starr