Test Drive Episode Synopsis
Episode One - The First Temptation of Earl
December 1

1954. Earl takes over the car dealership after the dramatic death of his father in law. In this episode he takes a comely Leaside librarian out for a test drive in a Nash Metropolitan. The test drive is literally a washout - Hurricane Hazel intervenes, and Earl is forced to spend the night in the librarian's apartment. He is sorely tempted to break his marriage vows, but doesn't. However, his wife Dorothy uses the near miss with the Young Miss to leverage herself back into working at the dealership.


Episode Two - Missiles and Mennonites
December 8

1962. A young man enters Earl's dealership and asks Earl to take him for a test drive to his parents' farm. Daniel is a Mennonite living on a farm just at the Markham edge of Scarborough - he's hoping that one of the plain American Motors cars will be acceptable to his folks. But a car of any kind is not to the parents' liking at all, and Daniel leaves the farm. Earl and Dodo put him up at their house in Don Mills. Dan soon falls in love with Speedy, the apocalyptic 18 year-old, bombshelter-building daughter of Earl and Dodo. The Cuban Missile Crisis forms the backdrop to this episode.


Episode Three - Driving Bob
December 15

1968. Earl is asked to run for the Tories in the Federal election. (It will transpire that Dodo engineered this, in order to get Earl out of the showroom.) Unfortunately for Earl's political ambitions, Trudeaumania is sweeping the country and the campaigning doesn't go well. Earl does enjoy the door-to-door canvassing though, and manages to sell several cars in the process. Bob Stanfield visits the local troops and Daniel (the once-Mennonite son in law and a terrible driver) chauffeurs Earl and the PC leader to the rally in a brand new Rambler Javelin. However, Franklin - Earl's lefty, hippie son - has booby-trapped the car with marijuana and a political near-fiasco results.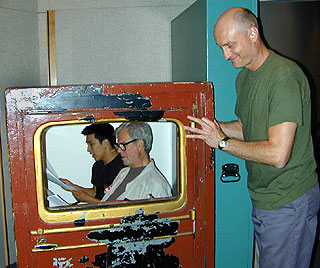 Wayne Richards (recording engineer) adjusts the "Toyota Camry" during recording of Test Drive. In the car: Richard Lee and Gordon Pinsent. Photo: John McCarthy.


Episode Four - September Song
December 22

1976. Earl and Dodo drive to the Montreal Olympics. It's their 30th wedding anniversary. Dorothy is dying. As they journey up Highway 401, they revisit their courtship days in flashbacks. They get to the Olympics but Dorothy is too ill to use their tickets for the gymnastics competition. Nadia Comaneci wins her perfect 10s against a backdrop of adoring spectators - and the Hughes' two empty seats.

Dorothy has an urgent mission. She has seen the handwriting on the wall, and is convinced that American Motors' demise is imminent. She urges Earl to save the family economically by landing a new franchise - with Toyota.


Episode Five - The Last Temptation of Earl
December 29

1987. Earl's American Motors franchise has been swallowed up by Chrysler, but his daughter Speedy sees a bright future in the service sector. They open a Tim Horton's on the site of the old dealership. There isn't much for Earl to do (he's now about 65) except wash tables on the patio.

But then Daphne, the librarian from Episode 1 drives up. Earl takes her back to the house and is about to actually have some intimacy with a woman for the first time since he was widowed eleven years before. However, first Franklin comes home and then Speedy and her husband Dan. (They all live together.) They run into each other in the bomb shelter - all of them having repaired there for very different reasons.

The final scene is back at the former dealership. Opening Day. Dan the bad driver is test driving a car up to the new Tim Horton store's takeout window, in full view of the city's press and television cameras…


Episode Six - The Test Drive
January 5

2001. Earl is over 80 now and his driving has deteriorated. He smashes his old AMC Matador into the rear of a businesswoman's Lexus SUV; she berates him as his car is towed away. Earl loses his licence and is forced to take a road test to get it back, and he take his young instructor an one of the more exciting driving tests in recent memory.