Test Drive
By Dave Carley
Linda Grearson: Producer
Winner: Bronze Medal, New York International Radio Festival (Best Play)

Monday Playbill
CBC Radio One
3:30 pm, December 1, 2003 to January 5, 2004

Episode Synopsis of Test Drive

Test Drive is the story of Earl Hughes, an American Motors car dealer on the Golden Mile in East York, Ontario. The six episodes of the series span the years 1954-2001 and follow Earl's career in the car business, as well as chronicling the story of his marriage to Dorothy (Dodo) and the exploits of his two children, Eleanor (Speedy) and Franklin.
The much-loved Canadian actor Gordon Pinsent plays Earl. Over twenty other actors round out the exceptional cast.

Each week's episode tells the continuing story of Earl's life over the years, and the revolution that has occurred in the auto retailing business since the 1950s. Each episode also revolves around a "test drive" - often involving a new car and happening against the backdrop of a larger event.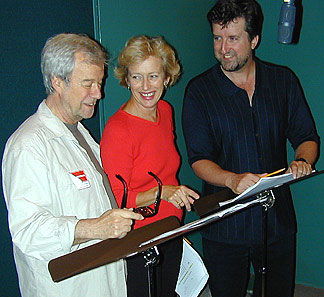 Gordon Pinsent, Linda Grearson (director) and Dave Carley in the radio drama studio in the Toronto Broadcast Centre. Photo: John McCarthy.
American Motors was the last North American independent car manufacturer. It built a lot of weird and wonderful cars - the Javelin, Pacer, and Metropolitan, among them - as well as many famous, sturdy compacts, like the Rambler American. It also owned Jeep. American Motors was finally absorbed by Chrysler in 1987.

Test Drive is a series of six radio dramas that were first broadcast on CBC Radio One and Two in November and December, 2001. They are intermittently available in CD from the CBC.
The script for the stage version of Test Drive is available in the Plays (full-length) section of this site.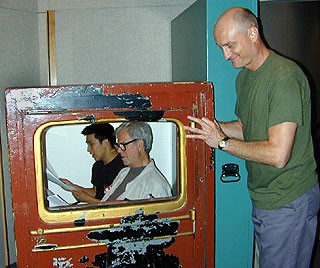 Sound Engineer Wayne Richards adjusts the "car", with Richard Lee and Gordon Pinsent.
Test Drive