Al Purdy at the Quinte Hotel
Featuring the Poetry of Al Purdy
Drama – 1m – 2 acts
Al Purdy was one of the greats of Canadian literature. His poems bridge the gap between academia and the factory lunchroom, and they span the country as well. In this celebration of his work, Purdy takes his audience on a tour of the land he loves, and the passionate characters who people it. All this from Purdy's vantage point at a table at the rear of the Quinte Hotel!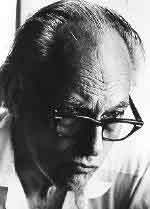 Al Purdy at the Quinte Hotel premiered on CBC Radio in February, 2004. Al Purdy at the Quinte Hotel (the radio version) starred Gordon Pinsent. More information on that production is available in the Radio Play section.

The stage premiere was at The Regent Theatre, Picton, Ontario, in July 2004. The play features original material, along with 16 poems by Purdy. Bob Collins starred as Al Purdy, along with Laska Sawade as the waitress and Kevin Quain as the hotel musician.

"There is lots of humour in this show, especially for those who remembered Al Purdy or were familiar with his work — or simply remembered an old-fashioned beverage room… The riveting evening of poetry, wit, humour and musical background comes to an end with Sawade singing an original song based on (Purdy's) lines, with a rousing standing ovation for the cast." (Belleville Intelligencer)
Due to copyright restrictions, the script for Al Purdy at the Quinte Hotel is not available from this website. Interested producers should contact the playwright's agent, Pam Winter at pam@garygoddardagency.com

Support the purchase and preservation of Al Purdy's A Frame house in Prince Edward County! For more information or to donate, click here!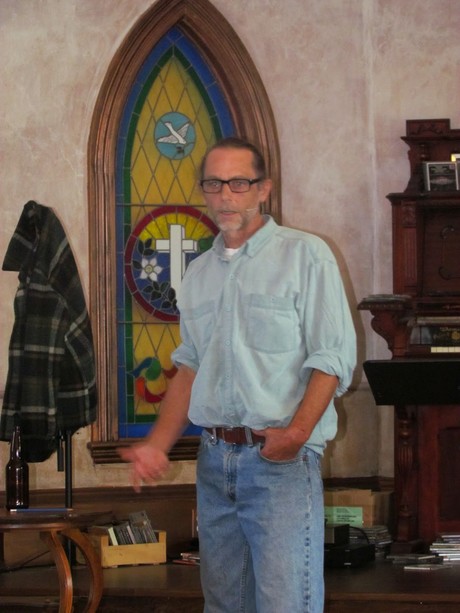 Richard Turtle, as Al Purdy, in a performance of Al Purdy at the Quinte Hotel. Richard has taken his impeccable performance (which includes music by Andy Thompson) to a number of venues. Here is at the Active Arts Studio in Rednersville, in Prince Edward County. Photo by and courtesy of Lindi Pierce.