Digging Up Hoffa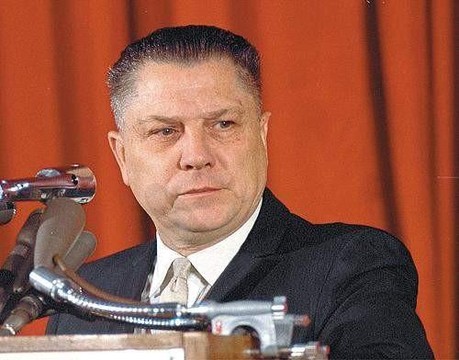 2f/1m
The 1975 disappearance of Jimmy Hoffa continues to fascinate North Americans. A great deal of time and money has been spent looking for Hoffa's body. Meanwhile, in a tiny house in a sad Detroit suburb, Phyllis DeLong worries about the state of her finances - and a septic system that has broken down. 
Luckily, Phyllis is a resourceful woman. Remembering the kindness of Mr. Hoffa (pictured above, in livelier times), she decides that desperate straits require bold action...
A staged and podcasted version of Digging Up Hoffa was premiered by Radio Theatre Project in Tampa/St. Petersburgh, Florida in January 2017. Staged versions have been subsequently produced in Williamsburg, Virginia and San Diego, California. And Detroit, Michigan.