The Final Hour
Written with Glenda MacFarlane
This play was written because Glenda and I discovered, to our horror, that CBC Radio wasn't planning any special events to mark the 60th anniversary of D Day. It did, in the end, observe the historic date and we were honoured and pleased to have played a part. The play nearly didn't happen, however. In preliminary negotiations, CBC Brass admonished us not to "glorify war". I blew my stack, used some contract-voiding language and said that I wasn't in the business of glorifying war but I sure as hell was going to honour the heroism of Canada's troops.
Synopsis:
Set in real time in the final hour before the D Day landing of June 6, 1944, The Final Hour follows five soldiers from the Royal Winnipeg Rifles regiment, as they prepare for their greatest undertaking of their lives.
Characters:
Gerald PARKER, 23. Major
FRED Miller, 22. Private
WILF Stewart, 24. Private
MORRIS Lamoreaux, 42. Private
JIMMY Mitchell, 19. Private
Setting:
Between 7 and 7:49 a.m., aboard a small landing craft (LCA).
The script:
Publication, distribution and rights for the stage version of The Final Hour is handled by One Act Play Depot.
Play history:
The Final Hour was first produced in performance at Toronto's Glenn Gould Studio, in June 2004, and taped for a live audience for CBC's Sunday Edition, for broadcast on June 6, 2004. The original cast included Herbie Barnes, David Cook, Jonathon Crombie, Matthew Ferguson and Patrick Garrow. Damiano Pietropaolo directed. The Gould production included live music, directed by Dennis Patrick and featuring Guido Basso, Doug Berry, Paul Widner, Dave Young and Timothy Francom. Marcia Johnson was Assistant Producer, Technical Direction was by Anton Szabo and Rosie Fernandez was Studio Director.
The radio version of The Final Hour was a Finalist for the 2005 Canadian Screenwriters Award. It was also CBC's official entry (Best Drama) in the New York International Radio Awards.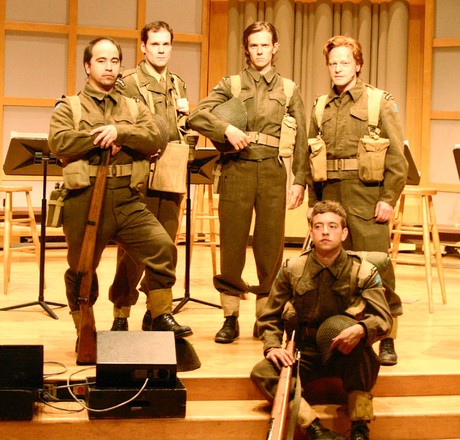 The Final Hour cast, June 2004: (Standing Left to Right) Herbie Barnes, Jonathon Crombie, David Cook and Patrick Garrow. (Sitting) Matthew Ferguson. The uniforms used in the Gould production were authentic, worn sixty years earlier on D-Day.