My Mother's Luck
"Why do you look so miserable? I just do not understand you. First you drive me crazy to go live with your father and now you sit like at a funeral... Just think, in a week you will be on the ocean and not so long after that, Germany."
My Mother's Luck is available in a One Act Act Play Depot short play collection Mothers and Daughters.
Synopsis:
Toronto, mid-1930s. A mother is resting her feet after a long day's work in her beauty salon. She speaks to her daughter; the young girl has secretly made plans to return to Germany to live with her father, and the Mother is deciding if she will allow her.
Cast:
MOTHER - not yet 40
DAUGHTER - early teens
About this Play:
My Mother's Luck is a stand-alone play that also forms part of A View From The Roof, a full-length play. It's a dramatized version of Helen Weinzweig's short story, My Mother's Luck. The dramatization sticks very close to that story and the proper attribution for this piece, if it is produced on its own, is:
My Mother's Luck
by Helen Weinzweig
dramatized by Dave Carley
Helen Weinzweig:
Helen Weinzweig was born in Poland in 1915, came to Toronto at age nine, and has lived in that city ever since. Her formal education was brief, as she had to leave school at seventeen, because of the Depression. The rest of her education has come from reading.

Helen began writing at the age of 45. She has written two novels, Passing Ceremony and Basic Black with Pearls, both published by the House of Anansi. A collection of short stories, A View from The Roof has been published by Goose Lane Editions, and was a Finalist for the Governor General's award.

Some "perks" along the way were awards and prizes, and short stories adapted for stage and radio. As Writer in Residence at the University of New Brunswick (Fredericton) in 1988, Helen Weinzweig lived for almost a year in a student dormitory, "to resolve an unfulfilled ambition to go to college."

Helen Weinzweig died in Toronto in 2010.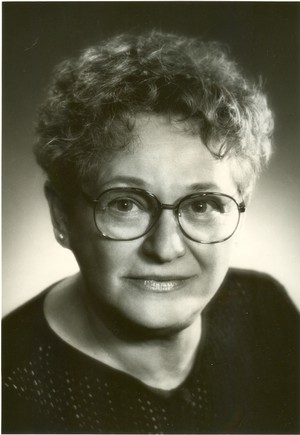 This was Helen Weinzweig's "official" photograph but it really doesn't do her justice. She should be laughing. A better picture is in the Plays - Full Length section...
Production History and Original Cast:
My Mother's Luck was originally  produced by CBC Radio Performance (Sandra Rabinovitch - Director) in 1992 for broadcast on the Morningside program. Tanja Jacobs played MOTHER. Portions were also presented at the 1995 Summer Works Festival at the Tarragon Theatre, featuring Esther Arbeid (as DAUGHTER), D. Garnet Harding, John Jarvis, Maria Vacratsis (as MOTHER) and Gina Wilkinson. Michael Waller directed. A full length version of the play A View From The Roof, which included the monologue My Mother's Luck, was produced at Tarragon Theatre in 1996; Kyra Harper was MOTHER and Esther Arbeid reprised her role as DAUGHTER. A slightly updated version (the one available here) was performed by Esther Arbeid and Bella Larsen in Toronto in May 2015, as well as by Margaret Rose and Miriam Ehrlichman, also in Toronto, in November 2015.